Continental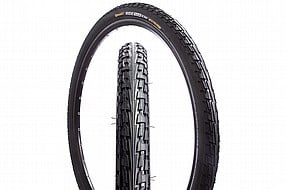 Casual Cyclist
Cedar CIty, Utah
0 of 1 customers found this review helpful.
Quality tires and quality supplier
I receintly purchased ssinngle speed road ebike. When I carelessly rode it off the paved course, it rather unceremniouslt dumped me. The second time, I ended up with 8 broken ribs and a punctured lung, a huge contuson on my right arm... Needless to say, my wife of many years would not let me back on the bike until I remedied the situation. The bike came with Kenda rod tires. After a few months of convalescence I began to search for some gravel tires. The brands and choices are endless. Settled on a mfr I trust - Continental - and a supplier I thought [from my internet research] looked big enough to deliver. Western Bike Works fit the bill. The ride tour 700C seemed to fit the bill. The tires and tubes came quickly and wel packaged. I am no mechanic, but the Contis were easy to install, and I have had them out in the chilly S Utah winter weather a few times with hopeful results. No snow or wet pavement yet. When I need other cycling equipment I will start by looking at Western Bike Works. I bought the tubes as spares and have not yet pressed them into service. So I raate only the tires and supplier
Thank you for your feedback.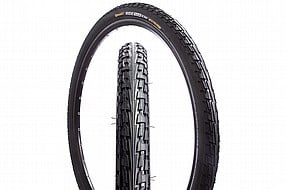 Daily Commuter
New Orleans, LA
My Go-To City Tire
After a decade of riding mostly continental gatorskins and schwalbe marathons on my city bikes, I stumbled on the Continental Ride Tour tires and will not be going back. I ride about 6-8 miles/day on the rutted streets of New Orleans and burn through tires every few months, these tires are an excellent way to avoid spending $xxx each time I wear through the tread. The tires mount easily and offer great puncture protection, from what I can tell. I ride them with normal tubes and no additional puncture protection, and the only flat I've had resulted from a botched tube change that pinched the inner tube. These are probably a bit heavy for riders who weigh their bikes and use carbon parts to shave ounces, but for the rest of us, the Ride Tour is THE city tire. Look no further.
Thank you for your feedback.
Cycling Enthusiast
West Coast of Florida
2 of 3 customers found this review helpful.
This is a tire for every occasion.
I am an old guy (74) and have been riding my Road Bike on these tires since they first came out. I ride 150 miles a week on the road here in Florida. The conditions of our roads here is proof we need a sensible infrastructure package. The roads go from really smooth (rare) to almost gravel pretending to be real pavement. Besides that, with the explosion of construction in Florida's fast growing population the bike paths are full of nuts, bolts, nails, and considerable amounts of plastic and glass. It is very difficult to keep from rolling over all that stuff because of the busy traffic at all times of day. All that to say that I seldom have a flat tire riding the 5000's and can say the ride is surprisingly comfortable. I also ride in the rain for a season and feel perfectly safe on the wet roads. I have tried many different tires over the last 25 years and no longer test out any other tires. You won't be disappointed with these tires.
Thank you for your feedback.
Cycling Enthusiast
Portland, OR
1 of 1 customers found this review helpful.
Fast, reliable, durable training tire.
I've tried "faster" tires, and they are great for race day or an epic ride, but I find I always end up with multiple flats over time. These Continentals, with standard tubes, last me an entire season of well over a thousand miles. I find them to be a great balance between fast and durable.
Thank you for your feedback.