St&s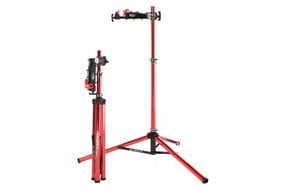 Cycling Enthusiast
Portland
Top notch quality, lacks stability
I was excited to upgrade my old Park Tools stand and get my hands on the pro elite clamping mechanism. The quality and operation of setting up the stand and clamping a bike in the jaws are flawless. However (and I should have anticipated this) the lightweight aluminum that makes the stand so portable also makes it wobble and bob like crazy when you're trying to do any work on it. This stand would be fantastic for light work and cleaning tasks in the field, but this doesn't pass muster as a solid home repair stand -- I can't imagine putting any kind of force on it to remove/install a BB, say; trying to adjust shifting with the bike bobbing around is tough enough. I think the Feedback Pro Elite Commercial Clamp paired with a Park Tools professional stand might be the ideal solution -- until I get more space to work in, it's back to my old folding Park stand.
Thank you for your feedback.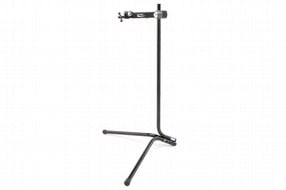 Cycling Enthusiast
Usk, WA
4 of 4 customers found this review helpful.
Works great!
This is my first repair stand. I had limited funds and limited space to store it. This stand fit both criteria. It folds up quicklyeasily for storage. It's stable when setup. It is well built. The jaws of the vise don't marr my bikes. Very happy with this stand, and it's so much better to do work (cleaning, chain maintenance, repairs) on my bike with it, rather than trying to stand the bike up. Ordering it from Western Bike Works was easy and I received it in 2 days. Great price, great communication. I love the stand and Western Bike Works.
Thank you for your feedback.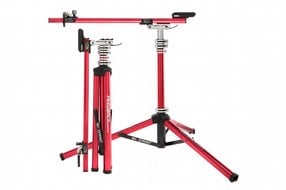 Pleasure to Use
When I started cycling in 1990, I took a maintenance course at my LBS. Ball bearings, quill stems, downtube shifters, steel frames. I bought a Park PC1 works and that was fine at the time. Now, at age 66, I decided to get an adjustable stand that could securely hold my Scott carbon frame. After doing some online research, bought this stand from Western Bikeworks. Competitive pricing, free shipping, no sales tax. Light, easy to store, easy to use. A bit of an issue with the front fork mount, but that's a function of the Addict fork dropout design. No longer have to jam the top tube into the stand jaws without clamping the carbon tube, only to have it wiggle loose. Love the adjustability of this stand.
Thank you for your feedback.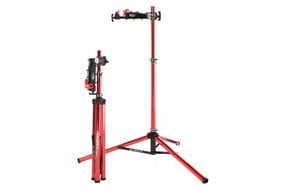 Casual Cyclist
Sutherlin, OR
1 of 1 customers found this review helpful.
Great Stand!
I'm new to the cycling world, so I have no previous experience with work stands, but I found it to be very stable, easy to use and setup. My wife and I have Specialized Diverge and Dolce road bikes with aluminum frames. Will need to store it flat, or propped up in a corner as it's a little top heavy (can fall over when leaning against a wall) I toiled over review after review of various stands on the market, and seriously considered going with less expensive options, but I have zero regrets with this purchase.
Thank you for your feedback.