Tires, Tubes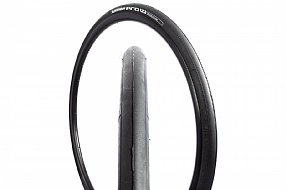 Cycling Enthusiast
East Tennessee
Michelin Pro4s check all the boxes!
I was using the lighter Michelin Power Competition for a few years but they were fragile tires. After I got a few sidewall punctures I switch back to Pro4 Service Course-a little heavier tire but much more durable. Even at 219g the Pro4 are still lighter than many of the other tires in the same class. My old Pro4 25mm would inflate to almost 28mm wide. These newer ones are more like 27mm after inflating to 85 psi. I get over 4000 miles for the rear tire and 5500 for the front. The grip and roll resistance are excellent even without the gimmicky tread patterns and fancy compounds.
Thank you for your feedback.
Cycling Enthusiast
West Coast of Florida
This is a tire for every occasion.
I am an old guy (74) and have been riding my Road Bike on these tires since they first came out. I ride 150 miles a week on the road here in Florida. The conditions of our roads here is proof we need a sensible infrastructure package. The roads go from really smooth (rare) to almost gravel pretending to be real pavement. Besides that, with the explosion of construction in Florida's fast growing population the bike paths are full of nuts, bolts, nails, and considerable amounts of plastic and glass. It is very difficult to keep from rolling over all that stuff because of the busy traffic at all times of day. All that to say that I seldom have a flat tire riding the 5000's and can say the ride is surprisingly comfortable. I also ride in the rain for a season and feel perfectly safe on the wet roads. I have tried many different tires over the last 25 years and no longer test out any other tires. You won't be disappointed with these tires.
Thank you for your feedback.
Cycling Enthusiast
Portland, OR
Fast, reliable, durable training tire.
I've tried "faster" tires, and they are great for race day or an epic ride, but I find I always end up with multiple flats over time. These Continentals, with standard tubes, last me an entire season of well over a thousand miles. I find them to be a great balance between fast and durable.
Thank you for your feedback.
Cycling Enthusiast
Grand Rapids, MI
My absolute favorite all-rounder for years
I've been running the Sparwood for about 6,000 miles over the last few years. It is the #1 tire I have run on my Fargo, but I've ridden most of Teravail's offerings on that bike from Rampart, to Honcho, to Coronado. The Sparwood is my favorite all-rounder as it can handle nearly everything and has minimal rolling resistance, and a long tread life. I've only had one puncture that didn't seal up over this 6,000 miles and it was jagged glass that cut a large slice into the tread. No tire would have survived.
These are the 'do everything' tire you've been looking for on your adventure bike. Get them with no regrets!
Thank you for your feedback.