Miscellaneous Tires

Built for traction and stability
Tires came promptly from Western Bike Works. Great service. These studded tires are amazing on ice...solidly secure grip is a huge confidence booster for winter riding. By definition, studded tires are going to be relatively heavy and significantly more expensive compared to non-studded tires. That said, 1) it's cheaper than a hip replacement or shoulder surgery that could result from an icy fall and 2) heavy and durable is much better than light and dainty in snowy/wintery conditions.
I was not able to take these tubeless on my HED Big Alloy Deal (BAD) rims. (These rims took my Schwalbe Jumbo Jims as tubeless instantly, for comparison.). I am running them tubed for this winter and notice the extra weight of the studs and tubes...but I call those #FitnessOpportunities and just appreciate being able to ride in the winter with nearly no fear at all. The only place where falls can happen are if there's a loose layer of slush or snow on top of the ice. If the studs can't get to the ice to dig in, then you can still fall/slip. That said, once you know this, it's pretty easy to read the road/trail to avoid or adjust to that situation as needed. If it's solid ice (like on a lake or something), ride on...because it's awesome!
I love the gumwall look on my 9Zero7 Tundra fat bike. So much fun!
Thank you for your feedback.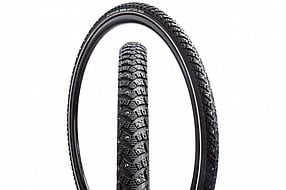 Daily Commuter
Burlington, VT
1 of 1 customers found this review helpful.
Great tire for winter bike commuting!
These tires have been great! I commute to work everyday in northern Vermont, where weather can vary from day to day. These tire have served me well during snowy rides and the nutty thaw freeze cycles of VT.
Thank you for your feedback.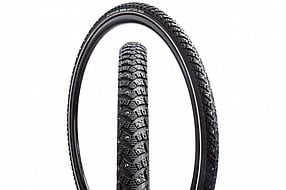 Daily Commuter
Springfield, MO
1 of 1 customers found this review helpful.
Live and die by Gatorskins
Been riding these for years - zero complaints. Strong durable great roll. Probably put a thousand miles on a set without any issues. I recommend (force) all my friends into these - no complaints from them either!
Thank you for your feedback.