Hydration, Nutrition
Good if you want electrolytes replaced without wanting additional calories.
I was using various powders to add to my water. Since those powders are usually mostly sugar, I wanted to better regulate my carbohydrates and not get unnecessary fuel every time I took a drink. I use 2 or 3 Endurolyte Fizz tablets per 750 ml (large) water bottle. This gives me the water and electrolytes I need and I can better decide what food I need to eat in addition, rather than getting sugars I may not need with every drink. Endurolyte Fizz tablets have a light, clean natural taste. I particularly enjoy the mango and the lemon/lime flavors.They don't make me feel bloated or upset my stomach. For some extreme rides, I may still add carbohydrate calories to my water, but for 99% of my rides, I prefer to keep only electrolytes in my water and carefully regulate my calorie intake with real food separately. Besides, I find eating real food is far more satisfying than drinking calories in your water. Everyone needs to figure out what works best for them, but watch the envious looks from guys who only have "miracle" carbohydrate powders mixed in their water when the rest of us pull out tasty real foods to eat.
Thank you for your feedback.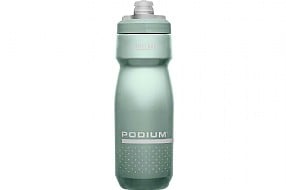 Great bottle, but harder to clean
I've had two of these with one dedicated to mixes and another for just water. After about 9 months, and cleaning after each ride, the water bottle is still rocking like the first time out. The mix bottle is nearly impossible to fully clean and try as I might, I cannot get the gunk out from the deepest parts of the internal nozzle from the underside. Not a huge deal, but if you use any mix, especially if you ride off road where those mixes will have dirt sticking to the nozzle, etc, they are trickier to keep clean. Outside of that, they're solid and I wouldn't hesitate buying these again, and may just need to re-buy every 6 months or so for my dedicated "mix" bottle. I've not had an issue (as others have stated) with fitting or having these "ejected" from bottle cages as that seems far more an issue with cages, not bottles. These fit standard bottle cages (all that I use on my various bikes) well and aren't difficult to seat, nor do they fly out over rough terrain, of which they've seen a lot.
Thank you for your feedback.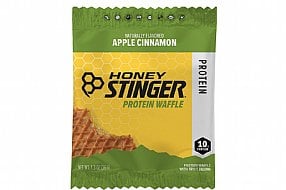 Cycling Enthusiast
fairview heights, il.
Ultimate snack for intense sporting activities - Will almost
Even with my bottomless stomach, especially with vigorous exercises, one waffle cookie will satisfy me through the routines, especially on the way back from a distant bike or jog loop. I have a huge appetite and feel hungry all the time especially upon strenuous exertion. I guess if I was to have a full meal w/ plenty of liquids (and pickle juice), that would be the ultimate. But we all know full meal would later weigh down and hinder the performance; therefore, Honey Stingers are the happiest medium to reduce the Bonk.
Wild Berry and Chocolate Stinger compliment the taste-buds just as well. As a matter of fact I go biking as an excuse to scarf down on those wafer-like cookies (j/j). Buying the Stingers in bulk (box of 12 and etc.) are ideal.
Thank you for your feedback.
New!