Hydration, Nutrition
Cycling Enthusiast
Pennsylvania (PA)
Super tight bottle cage
Whether or not you like this bottle cage ultimately depends on how tight you prefer your water bottles to be held by the bottle cage. Your preference will probably be different if you were a mountain biker that frequents rough terrain versus a road cyclist that only rides on smooth tarmac. Before I get into my assessment, it is also worth pointing out that I use Polar Insulated bottles. Elite does sell its own brand of bottles, and that affects the fit in the cage. I am a road cyclist, so I am not concerned about my water bottle rattling out of its bottle cage. In terms of the bottle cages that I've owned/tried, it's ranged from the super loose Ibera Aluminum bottle cage, the snug Zefal Pluse B2, and the super-tight Elite Custom Race. To get a bottle out of the Elite Custom Race, you do need a strong tug. You also have to press the bottle back into the cage when returning it. One thing that made me not like the tightness is the fact that I have an x-small bike frame, and there's not much space to pull the bottle forward. Ultimately, I ended up opting to not use this bottle cage. My recommendation would be if you are most concerned about your water bottle to being securely stored, this would be your go-to cage. It's sleek, lightweight, and feels sturdy. If you like more of a quick bottle removal and return, then you probably will end up being very annoyed by this cage.
Thank you for your feedback.
2 of 2 customers found this review helpful.
Excellent hydration pack
I've put this pack through the ringer and is my second time purchasing in 15 years. They've found a way to make an awesome pack even better with the dedicated tool pocket (which I actually use to store my first aid kit) and the hip belt pockets. The pack is perfect for all day riding and hits the sweet spot for weight, size, and water capacity. However, if you need a bigger pack to carry your pads/armor or more than a couple items of clothing, consider getting the Evoc.
Thank you for your feedback.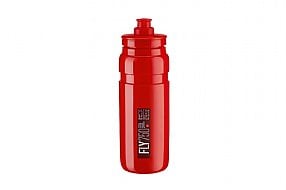 3 of 3 customers found this review helpful.
Most perfectest water bottle I've found
Switched to these because grunge was growing in the caps of the water bottles I had been using (Purist) and disassembling them for cleaning was extremely difficult. Grunge does not flourish in the Fly's caps because they do not have "dead spots", and when desired they can be pulled apart for cleaning.
These are lighter than typical bottles and are therefore more flexible. Caps flow really fast, flow can be increased by squeezing the bottles. Haven't had problems using them in side-entry cages.
Also really like that they drain almost completely. And the wide mouth makes it easy to add powders, ice cubes, etc as needed.
Available in 550ml, 750ml, and 950ml sizes; I use all three. 550 for recovery mix, 750's for general riding, 950's for longer rides to avoid having to refill the 750's en route (or figure out a way to carry more bottles on the bike). The 950's are 10.5" tall, best check that they will fit in your frame!
Thank you for your feedback.
2 of 3 customers found this review helpful.
Good if you want electrolytes replaced without wanting additional calories.
I was using various powders to add to my water. Since those powders are usually mostly sugar, I wanted to better regulate my carbohydrates and not get unnecessary fuel every time I took a drink. I use 2 or 3 Endurolyte Fizz tablets per 750 ml (large) water bottle. This gives me the water and electrolytes I need and I can better decide what food I need to eat in addition, rather than getting sugars I may not need with every drink. Endurolyte Fizz tablets have a light, clean natural taste. I particularly enjoy the mango and the lemon/lime flavors.They don't make me feel bloated or upset my stomach. For some extreme rides, I may still add carbohydrate calories to my water, but for 99% of my rides, I prefer to keep only electrolytes in my water and carefully regulate my calorie intake with real food separately. Besides, I find eating real food is far more satisfying than drinking calories in your water. Everyone needs to figure out what works best for them, but watch the envious looks from guys who only have "miracle" carbohydrate powders mixed in their water when the rest of us pull out tasty real foods to eat.
Thank you for your feedback.