Hydration, Nutrition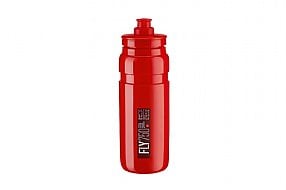 2 of 2 customers found this review helpful.
Most perfectest water bottle I've found
Switched to these because grunge was growing in the caps of the water bottles I had been using (Purist) and disassembling them for cleaning was extremely difficult. Grunge does not flourish in the Fly's caps because they do not have "dead spots", and when desired they can be pulled apart for cleaning.
These are lighter than typical bottles and are therefore more flexible. Caps flow really fast, flow can be increased by squeezing the bottles. Haven't had problems using them in side-entry cages.
Also really like that they drain almost completely. And the wide mouth makes it easy to add powders, ice cubes, etc as needed.
Available in 550ml, 750ml, and 950ml sizes; I use all three. 550 for recovery mix, 750's for general riding, 950's for longer rides to avoid having to refill the 750's en route (or figure out a way to carry more bottles on the bike). The 950's are 10.5" tall, best check that they will fit in your frame!
Thank you for your feedback.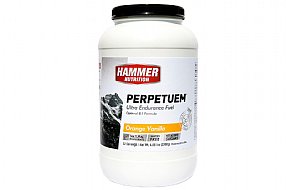 Great long endurance training fuel
This doesn't give me the syrupy sugar goo mouth like other mixes can on long rides a few hours or more long. I like that it doesn't contain the typical sugars so it doesn't create insulin response issues or promote tooth rot. The flavor is just enough ( I like the orange ). On race day it's not my choice though, I switch to the sugar mixes for easier digestion / absorption and I have electrolytes in the mix. I'll do a couple long training rides with the sugary mixes before the race to make sure my stomach is ready for it.
Thank you for your feedback.
1 of 2 customers found this review helpful.
Good if you want electrolytes replaced without wanting additional calories.
I was using various powders to add to my water. Since those powders are usually mostly sugar, I wanted to better regulate my carbohydrates and not get unnecessary fuel every time I took a drink. I use 2 or 3 Endurolyte Fizz tablets per 750 ml (large) water bottle. This gives me the water and electrolytes I need and I can better decide what food I need to eat in addition, rather than getting sugars I may not need with every drink. Endurolyte Fizz tablets have a light, clean natural taste. I particularly enjoy the mango and the lemon/lime flavors.They don't make me feel bloated or upset my stomach. For some extreme rides, I may still add carbohydrate calories to my water, but for 99% of my rides, I prefer to keep only electrolytes in my water and carefully regulate my calorie intake with real food separately. Besides, I find eating real food is far more satisfying than drinking calories in your water. Everyone needs to figure out what works best for them, but watch the envious looks from guys who only have "miracle" carbohydrate powders mixed in their water when the rest of us pull out tasty real foods to eat.
Thank you for your feedback.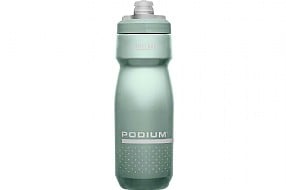 1 of 1 customers found this review helpful.
Great bottle, but harder to clean
I've had two of these with one dedicated to mixes and another for just water. After about 9 months, and cleaning after each ride, the water bottle is still rocking like the first time out. The mix bottle is nearly impossible to fully clean and try as I might, I cannot get the gunk out from the deepest parts of the internal nozzle from the underside. Not a huge deal, but if you use any mix, especially if you ride off road where those mixes will have dirt sticking to the nozzle, etc, they are trickier to keep clean. Outside of that, they're solid and I wouldn't hesitate buying these again, and may just need to re-buy every 6 months or so for my dedicated "mix" bottle. I've not had an issue (as others have stated) with fitting or having these "ejected" from bottle cages as that seems far more an issue with cages, not bottles. These fit standard bottle cages (all that I use on my various bikes) well and aren't difficult to seat, nor do they fly out over rough terrain, of which they've seen a lot.
Thank you for your feedback.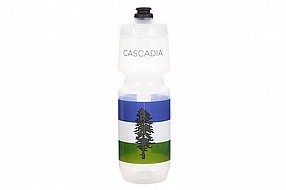 New!