Tubes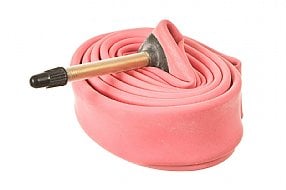 Cycling Enthusiast
Liberty Lake, WA
Very Pleased with the tube
I bought these latex tubes after reading many of the reviews of the product. They are what all the reviews say they are. Light, supple and fragile. I got 667 miles out of the front tube before it went flat. On removal of the tube the hole was located at the base of the stem where the two ends of the tube are joined. After spending a few minutes inspecting the hole and the area around the hole, it looked like the tube may have been rubbing either on the rim tape or some irregularity in the wheel, even though I couldn't feel any irregularity that seemed sharp enough to cause the proble. The wheel is a DT Swiss R470db. I used an idea I got from the LBS some years ago and cut out a piece of butyl tube about 2.25 inches by 1 inch. I punched a hole in the piece and slide it over the stem to give that area of the tube a little more protection. Time will tell if this was a good fix or not. The last point about the tubes is Vittoria claims they may decrease the rolling resistance of the tire assemble by as much as 5.5 watts. Again this is something I can't personally verify but assuming it may be true, that works out to about $3.00 per watt of decreased rolling resistance. I think that is a bargain.
Thank you for your feedback.
Competitive Racer
Walnut Creek, CA
Backup your Tubeless Tires!
Perfect backup for my tubeless gravel bike tires! - small and lightweight but durable enough to hold when there may be some slits or cuts in the casing or sidewall. Carry some tyvek paper to back the holes up if they're too big.
Thank you for your feedback.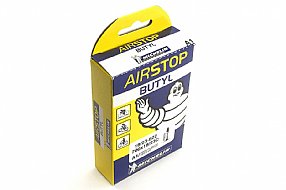 Its a tube
The butyl isn't the lightest but it's pretty sturdy for daily use and I don't have to fuss with valve extenders on my carbon wheels. I like that they are pretty durable and have smooth valve stems so my pump doesn't get chewed up. They hold air well and last quite a long time for me.
Thank you for your feedback.
7 of 7 customers found this review helpful.
Terrific tubes until you get a puncture
Pros: lightweight, packs small, holds air very well, perfect for seat-pack spares
Cons: Cannot be permanently patched with any patch material currently on the market. I've tried Tubolito, slime, and Park patches. Nothing works. Schwalbe says you must use their patch kit, but I've never tried it because these are not available anywhere. Until Schwalbe makes their patch kits as widely available as the tubes, these can only used as a seat-pack spare (unless you want to throw away a $30 tube with each puncture). Note: Tubolito patches work great for a while, but after a few months they eventually fail.
Thank you for your feedback.