Miscellaneous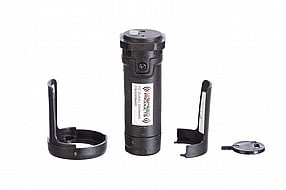 Cycling Enthusiast
Central Wisconsin
1 of 1 customers found this review helpful.
Works with my Craftsman opener
I thought I remembered reading that Craftsman and Chamberlain were the same manufacturer. And this in if fact worked out for me and synced using the Chamberlain code (2 presses to program this remote) Pretty cool and pretty convenient. I will be anxious to see what battery life I get after reading that other review.
Also, since I just put on new bar tape a few days ago, I did not use the provided rim mounting pieces. I just pressed the main body into my taped handlebar end and it was plenty snug.
Thank you for your feedback.