Trainers & Rollers
20
Trainers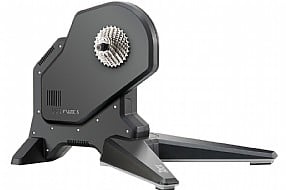 Cycling Enthusiast
Westminster, MD
Very good trainer for the money
I use the trainer only when the weather is too nasty to ride outdoors. I don't race, but do enjoy mixed surface rides in very hilly terrain. The trainer is very good, quiet and stable, but it does not accurately replicate steep climbs, rather it calculates an equivalent speed based on power and rider weight. This works well enough, but does require you to run significantly higher gears on a climb than you would on the road in order to get the proper resistance. Also, if you are running Sram XDR cassettes, there are two different XDR freehub conversions available from TACX, but only the newer model will fit this trainer - the description doesn't mention that.
Thank you for your feedback.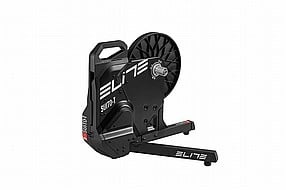 2 of 2 customers found this review helpful.
Great trainer for a reasonable price
I love this trainer. I had an extra cassette already so no need to buy a trainer that had one. Setup is just a few seconds. Pull it out of the box, extend the legs, the attach the cassette. It came with enough adapters to attach any axle configuration. The free app is basic but it will let you start riding without a subscription to anyone. Im going to start zwift soon to make things a bit more interesting.
Thank you for your feedback.
1 of 1 customers found this review helpful.
Its extra features are definitely worth it!
Two years ago I decided to save money and get a KickR Core instead of this. The KickR has worked great, but recently I realized I wanted the added features this offers, sold the KickR for a good price, and got one of these at a great discount here.
(1) Autocalibrate: great not to have to remember when spin-down calibrations are due, even though they are simple to run.
(2) Downhill simulation makes sessions far more realistic. On the road, downhills give you a break so the ride is a series of "intervals" and "recoveries". With the Neo 2T, on a 7% downgrade you can stop pedaling and see speed build as you coast!
(3) Left-right swaying also adds realism. Even though I don't rock the bike that much on the road, even while out of the saddle, having the bike on a rigid-mount trainer means you push against it in a way you don't on the road.
(4) Even smoother and quieter than the KickR, which is pretty quiet. The KickR tended to rumble at speed in big gears, which this trainer does not seem to do.
I can't feel the flywheel's variability but it seems a good idea.
Good thing I don't care about RRF (Real Road Feel), it doesn't add realism for me: (a) it doesn't activate over visible single bumps, it just works on bumpy stretches (cobblestones, brick paving), (b) it generates bumps only through the pedals, whereas on the road you feel them through the handlebars and saddle as well. I shut it off.
My 700c road bike did not mount level on it, which can affect how your saddle works for you. Measuring axle-to-axle, the rear end was LOW by 5/8"-3/4", so I put 3/4" plywood beneath the trainer to raise it. The side-side swaying makes the front wheel chock necessary to keep the bars from flopping around, so replacing the chock with thinner wood shims to lower the front end was not an option.
Thank you for your feedback.
True road feel
I use it with Zwift for general riding and Sufferfest for training. Time saver. The best workouts in the shortest amount of time during the week. Most liken to road feel. Love the the ability to rock left and right, just like riding outside.
Thank you for your feedback.