Components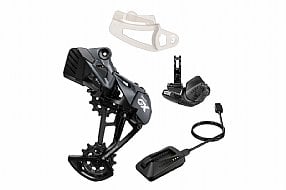 Cycling Enthusiast
DFW, Texas
1 of 1 customers found this review helpful.
Easiest Drivetrain Upgrade Ever
I bought this as a way to go to electronic shifting with my otherwise Shimano XT setup (12s Di2 does not yet exist in public).
This was the easiest upgrade of a drivetrain I've ever done. Literally the hardest part was removing the cable housing from my frame (it got stuck).
When I installed the RD it was already perfectly adjusted to work with my XT M8100 10-51T cassette and had no compatibility or shifting issues with the Shimano HG+ chain. It is almost the perfect setup, shifting is precise and 100% consistent every time.
I do have two things I think could be better... I won't even call them complaints or negatives, just observations.
Coming from Di2 on my Road/Gravel bike, it feels like AXS is just a tiny bit slower to respond and shift... maybe 1/2 or 1/4 second. Barely noticeable, and coming from mechanical, I'd never know it.
I wasn't a huge fan of the rocker paddle that comes on the shifter and I replaced it with the optional one ($20 additional purchase). It's a personal preference thing, and I could probably have adjusted to it, but years of Shimano and muscle memory had me missing shifts and shifting down when I meant to shift up. Couple weeks and I probably could have adjusted, but if SRAM is including a multi-tool, I'd be nice if they'd include both paddles and give the rider the option.
Thank you for your feedback.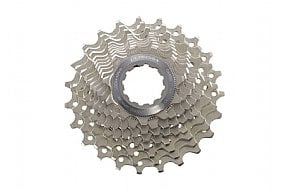 Cycling Enthusiast
Metro Detroit
Great cassette
I have the 12-23 and have probably 10,000 miles on it, rarely going 150 miles or more without a thorough cleaning. Works great! I like the 12-23 because I can stay in my big chainring for all but the toughest climbs on my usual routes, and the middle few gears are only 1 tooth difference so I have that nice stair-step up and down the gears so I'm always in a comfortable cadence in nearly all riding conditions. Never feel like I'm in a gear too low or high.
Thank you for your feedback.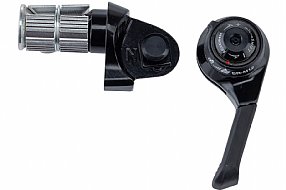 Daily Commuter
India, Pune
If you wish to use SRAM EAGLE on drop bars, this one is the best option
SRAM 1x Eagle groupsets are best for touring on hills and bad roads. the large gearing ratios come handy when you go with extra loads and climbing hills. Not having the front shifters also make it more convenient and lesser parts (and hence more reliability). The only issue with Eagle components is not having compatible shifters which can be used on a drop handlebar and something reliable. Microshift bar end shifter has good built quality, shifts smoothly and very convenient.
Thank you for your feedback.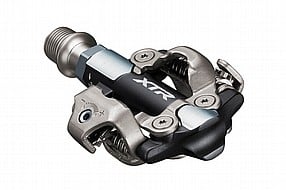 Cycling Enthusiast
Springfield, OR
1 of 2 customers found this review helpful.
Not worth the price
Frequent year 'round gravel and road riding. Easy enter and release. My first pair wore out and were replaced under warranty. They are easy to maintain so I'm on top of it more often now. One major design flaw: What's with the sharp concave edges on the ends of the spindle housing? Real ankle-biters if you scrape up against them. I will dull them off with a file once they're out of warranty (if they last that long!). The ends should be shaped just the opposite in a convex shape.
Thank you for your feedback.