Multi-Tools & Field Repair
Best Tire Lever!
FYI - this is the single best tire lever I have ever used on difficult tubeless situations. Very inexpensive, and they just don't break! When working on a particularly difficult tire bead that I just couldn't get over the rim on my rather wide Enve 3.4 AR's, I broke one of those two piece levers that articulate against the opposite side wall to give you more leverage. I didn't know what to do and gave up for a few minutes. Then after giving my hands a rest I grabbed my Pedro's yellow lever I carry in my saddle bag, and bam! I thought it was going to snap with how much force I put on it, but it held strong and did the job. This lever is the champ!
Thank you for your feedback.
Cycling Enthusiast
New Jersey
Simple, reliable tool for roadside repairs
There's not much to say about this item. As can be seen in the pic, it's a solid piece of metal with six tools along the edges. Does an effective job at basic roadside repairs, although you won't have every size allen bolt you need, particularly if you're on the road with your kids and their bikes along with your own. Also the length of the item can get in the way of screwing or unscrewing a bolt - meaning you might only be able to turn the bolt 20 degrees at a time. That being said it's a quality, reliable, simple tool and I expect it will last a lifetime.
Thank you for your feedback.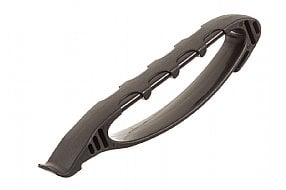 Casual Cyclist
Smyrna, Georgia
Cycling Enthusiast
Los Angeles, CA
2 of 2 customers found this review helpful.
Indestructible!!
Been using Pedros levers for several years now and refuse to use anything else! If I'm purchasing new levers, it's only because lost them or gave them away. These levers have never broken on me, even on the most difficult tubeless road and mountain tirewheel combos. Would highly recommend.
Thank you for your feedback.