Shoes
190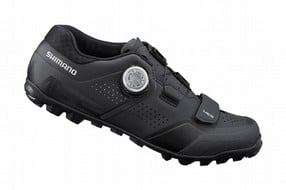 Shoes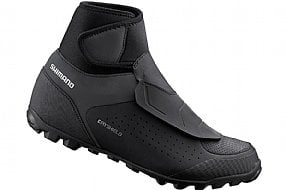 Cycling Enthusiast
SE Wisconsin
A great cold weather shoe
I wanted warmer shoes for winter riding in Wisconsin. my winter riding is mostly road riding, but I ave done 8 or 9 trail rides qith them too.
I like the warmth and the ankle coverage.
They fit my wide feet very well, and have a very adjustable fit. If I am not careful I can get them too tight and my feet will be cold. Set them to the right tightness and they are warm and comfortable with great control.
I do have wide feet, and when set properly for my feet, there is a bit of the velcro visible. I wish the flaps were a bit bigger, but people with narrower feet probably feel the opposite.
So far they have worked great for riding about an hour and a half at a time six days a week in temperatures ranging from 11 to 60 degrees. Typically it has been in the 30-35 degree F range
It is often snowy, and I have been rained on about a half dozen times now, and my feet/socks have never felt wet showing that they breath pretty well too. WHen I wore shoe covers in the past my feet were often wet from sweating.
After using these shoes this winter I will never go back to shoe covers again.
Thank you for your feedback.
Cycling Enthusiast
gresham
Fits well for a flatter foot!
these are very comfortable. I was looking for a shoe that was a little wider. As my distance in my rides progresses my feet seem to flatten out a bit and my old shoes it would start cramping side to side and pinching the outside of my foot. these have enough room to not do that while still not slipping around. the velcro straps get nice and tight and the bolo is easy to use. i like that they have a replaceable heel as well as that heel seems to make it easier to walk vs my older L. Garneau shoes
Thank you for your feedback.
Cycling Enthusiast
Midwest USA
Love everything about these shoes!
I use it for cold weather riding in the Midwest. I like the wind proof gortex and the Boa ratchet system. Power transfer seems the best for any shoe I have ever used. Not super comfortable to walk in but feel super comfortable while pedaling.
Thank you for your feedback.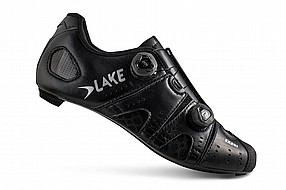 Predictable Lake quality & fit
My road shoe experience is limited to Shimano (several pair over time), Garneau, Fizik, Sidi and Lake. In the latter I've even had the kangaroo hide version. But these leather cx241's are my faves, chiefly for their unique fit dedicated design (which also augments the comfort and power transfer factors). No cycling shoe maker has as many offerings, all with their own unique last, and this model is as close as one is likely to achieve to an actual custom built shoe. Good stuff, Maynard. You won't be disappointed.
Thank you for your feedback.