Tubular (Sew-up) Race Tires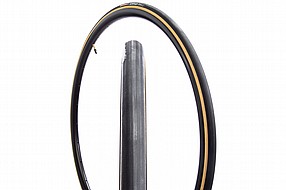 Cycling Enthusiast
Baltimore, MD
7 of 7 customers found this review helpful.
Conti Giro a great price value!
As a former Cat II racer who is just getting back into cycling after 15 years of sitting on the couch, I was looking to replace the dry rotted Vittoria Corsa CX tires on my racing bike. Not wanting to spend the money on the new CXs, I decided to try the Conti Giros. After 400 miles, the tires are holding up nicely. They corner well, show good traction in wet condition and seem to hold air pressure. While I am not sure that I would race on them, for training and fast rec rides, they are a fabulous value. Time will tell if thay rate 5 stars.
Thank you for your feedback.