Hydration
Great bottle, but harder to clean
I've had two of these with one dedicated to mixes and another for just water. After about 9 months, and cleaning after each ride, the water bottle is still rocking like the first time out. The mix bottle is nearly impossible to fully clean and try as I might, I cannot get the gunk out from the deepest parts of the internal nozzle from the underside. Not a huge deal, but if you use any mix, especially if you ride off road where those mixes will have dirt sticking to the nozzle, etc, they are trickier to keep clean. Outside of that, they're solid and I wouldn't hesitate buying these again, and may just need to re-buy every 6 months or so for my dedicated "mix" bottle. I've not had an issue (as others have stated) with fitting or having these "ejected" from bottle cages as that seems far more an issue with cages, not bottles. These fit standard bottle cages (all that I use on my various bikes) well and aren't difficult to seat, nor do they fly out over rough terrain, of which they've seen a lot.
Thank you for your feedback.
Cycling Enthusiast
Brenham, TX
Improvements in the mouthpiece make this superior to other top names
People give me the Podium chill for gifts. I try them, then went back to my old Polar. Now with the new mouthpiece the choice is even clearer. Podium Chill mouthpieces are much bulkier (even the new one) and simply take more effort than needed. The new Polar mouthpiece is small and, very easy to use; just put it in the mouth and squeeze. No need to turn a dial when flying down a hill when you can sneak a drink yet don't want to fumble with turning the mouthpiece. Moreover, the exterior of the bottles make noise in my carbon bottle cages. Granted, the cages i use grab the bottle tightly, but the Polar makes no noise (other than some ice slosh, not a bad thing). They also look better than the PChill.
Thank you for your feedback.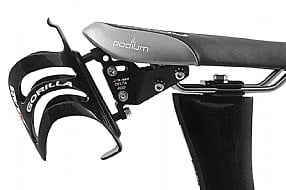 1 of 1 customers found this review helpful.
Holds bottles tight and out of the way
This is a bit fiddley setting it up with all the fasteners but once it's on it works great for me. I put it on my BH G7 to have another bottle holder for longer rides (centuries) without getting in the way of throwing my leg over the saddle. It holds the bottles that are designed for it very well, bottle launchs for me yet including a few bumpy railroad crossings. It is a bit difficult to pull a bottle out of though, need to twist it a bit to get it out. I haven't tried it with full Camelbak bottles, and probably won't as I have heard those won't stay in, empty Camelbaks stay in fine though. As soon as I finish my first bottle from a frame mount bottle holder I swap it with the one in this saddle mount so I can finish the uninsulated bottle before it get's too warm. I would definitely recommend this one for anybody looking for a single bottle holder to attach to their saddle rails.
Thank you for your feedback.