Accessories
1 of 1 customers found this review helpful.
Fine for it's purposes
This lock is not going to protect your bike for very long, if not used in conjunction with a larger locking system.
But,if you want some piece of mind in situations where you would usually leave your bike unlocked, this lock is a great candidate. It's small and light and prefect for gas station resupplies and bathroom trips. For cafe and coffee stops.
My only issue is that the locking and unlocking function can feel a little stiff and sloppy. And there is a small learning curve to getting it to run smoothly.
Thank you for your feedback.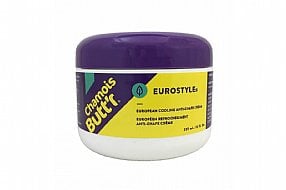 Good stuff!
I've used just about every chamois creme out there. Most of them do their job pretty well, but I have found that the Euro style Chamois Butt'r, works particularly well for my body. Long rides are tough on me with the chafing after the chamois creme breaks down. The Euro style is a bit thicker than most so it seems to do a better job for me longer. We're all different down below, and I have a real problem with chafing and eventual sores unless everything is just right. Euro style does a little better for me than most of the others.
Thank you for your feedback.
Cycling Enthusiast
Santa Barbara, CA
Good rack for what it is designed for.
This rack is sturdy and well made, installed pretty easily (the screws lined up with the places they are supposed to on my bike), and works as advertised. I put some medium panniers on it to augment my larger ones on the back, for grocery shopping days. Now I can put all my groceries in the back, and put my clothing layers in the front when needed. That said, I thought I would like the low panniers, but now I think I would prefer them at least a bit higher. I haven't got into the rainy season yet, but when I do I think these are going to be subject to more splashing etc as low as they are. Anyway, it is a very good rack if you want this design. Also, it looks nice, and isn't overbearing.
Thank you for your feedback.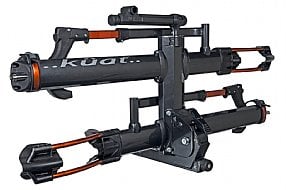 Quality rack, great features
I replaced an older Yakima hitch rack that was a workhorse but not built for fat bikes. Given its age, I decided to move to the Mercedes of racks, the Kuat NV 2.0 rack.
From the initial unboxing, I noted the quality build of this rack. It is very solid and all metal surfaces are covered with a thick paint that should hold up to corrosion from rain or NY salted winter roads.
The features are excellent as well, from the built-in cable lock (that would only be used to lock the bikes for quick stops while transporting, not for overnight or otherwise lengthy stops), to the fat tire compatibility and the sliding rear tire strap that adjusts to the bicycle's length. There is even a ball bearing on the bar that slides into the hitch, making installation and removal much easier.
My Yakima had to be screwed into the hitch very tightly with its included hitch bolt in order to prevent the rack from wobbling. The Kuat provides a dial on the outside of that bar that you simply hand tighten to prevent rack wobble. So much easier.
You definitely get what you pay for with this rack.
Thank you for your feedback.