Travel & Storage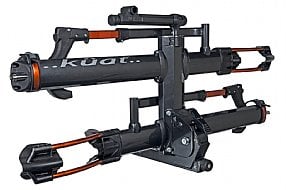 Quality rack, great features
I replaced an older Yakima hitch rack that was a workhorse but not built for fat bikes. Given its age, I decided to move to the Mercedes of racks, the Kuat NV 2.0 rack.
From the initial unboxing, I noted the quality build of this rack. It is very solid and all metal surfaces are covered with a thick paint that should hold up to corrosion from rain or NY salted winter roads.
The features are excellent as well, from the built-in cable lock (that would only be used to lock the bikes for quick stops while transporting, not for overnight or otherwise lengthy stops), to the fat tire compatibility and the sliding rear tire strap that adjusts to the bicycle's length. There is even a ball bearing on the bar that slides into the hitch, making installation and removal much easier.
My Yakima had to be screwed into the hitch very tightly with its included hitch bolt in order to prevent the rack from wobbling. The Kuat provides a dial on the outside of that bar that you simply hand tighten to prevent rack wobble. So much easier.
You definitely get what you pay for with this rack.
Thank you for your feedback.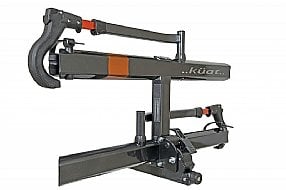 Cycling Enthusiast
Collingswood, NJ
Look no further and choose this 2-bike rack!
Bought this rack a few months ago and am wholly impressed with the style, function, safety, and sturdiness. I was forced into the 1.25" version which I expected to be not as sturdy as the 2", but I was pleasantly surprised. The integrated hitch stabilizer makes it super sturdy and can be tightened with the provided 8mm hex. I wish the lock was integrated, but it also comes with a lock that doesn't make any noise despite it being a bit oversized and loose when installed. There is some small movement while holding two 30lb mtb's but overall very sturdy. The profile is perfect. I can see straight out my hatchback window without any obstruction from the rack. It folds down easily with a push of the lever and you get a very audible click when it's in place. Bikes go on quickly and secure tightly with the arm and rear wheel strap.
Thank you for your feedback.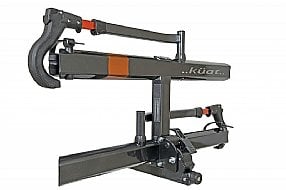 Competitive Racer
Owings Mills, MD
Excellent light weight rack with exceptional stability.
I am an average senior competitive cyclist. I do mostly timed trial events nationally. I use this rack primarily to transport my bike to cycling events. There are no issues that I seem to have problems with other than attaching the safety lock. It appears that there is something preventing the bolt from being inserted. I have not had time to figure out what the issue is, but my car and rack is in the garage most of the time so, that level of security has not been an issue for my part. I love the design as well as the ability to get into the trunk of my car with the bikes loaded onto the rack. Before purchasing this Kuat, this was always a problem with packing gear. But that rack was trunk mounted and not storage friendly. Finally the only downside that I had was the length of time I waited to get the rack. I believe I ordered it in November 2020 and did not get the rack until February or March 2021. I was told that the racks were back ordered. I refused to cancel the order because the reviews were great and the cost was $100.00 cheaper at the time I placed the order. If I had canceled and ordered from a different company, I was looking at an addition fee tacked on to the increased cost of the rack. So I just prayed that I would get it sooner than later......Thank you Western Bike Works for finally coming through. I am a happy cyclist for sure...
Thank you for your feedback.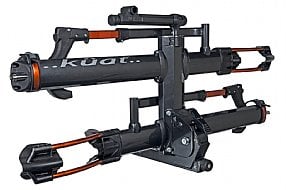 Cycling Enthusiast
Wisconsin
1 of 1 customers found this review helpful.
Simply Awesome!
I bought this rack to support transporting expensive bikes on family vacations. Knowing that a vacation is ruined if the rack breaks cost was not a factor in decision. That said this rack is amazing! Fast to load, easy to use, sturdy, looks great, and most important, securely hold the prized bikes you love. In 5 months we've driven from Wisconsin to Michigan 4x, Colorado 1x, & Florida 2x. Never an issue or concern. It's a heavy rack to lift by yourself, but that helps with solid feel/stability. I must say that it looks better in person than online. I am much happier than I thought I would be with the look/quality. Other racks are masses of plastic and this has a more purposeful thought through appearance. I also like the receiver tensioner to take out the wiggle caused by tolerances in truck receivers. Would buy again in a heartbeat!!!
Thank you for your feedback.