Travel & Storage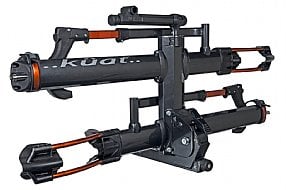 Heavy duty bike rack
Bike rack certainly built well. The rack weighs in at 70 lbs and the 2 bike addition weighs nearly 50 so you need to be able to lift 115-120 lbs to place into hitch. Took a bit to assemble as it really needs 2 people due to weight and awkward attachment but looks to be built as a long term investment.
Thank you for your feedback.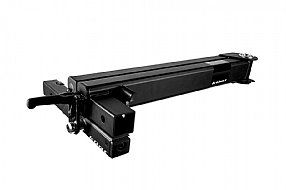 Best pivot-arm hitch mount out there.
I waited over a year for this bad-boy to be restocked� So glad I did. This thing is a super smooth operator! My current bike rack didn�t have enough tilt to free up my rear hatch window from opening. With the Kuat Pivot V2 it swings WAY out of the way, and effortlessly supports my 4 bike hanger style rack. Plus� I can now use my cargo deck in the hitch receiver without getting mentally taxed on what to pack where. I can just throw stuff in the back, load up the cargo deck, and have free access to it all! Works great!
Thank you for your feedback.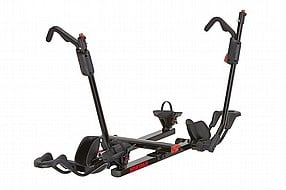 2 of 2 customers found this review helpful.
Like all other Yakima racks
Does a good job with some really bizarre design flaws. I replaced a 4xup Yakima rack (that was a headache) after a couple years of use, with this rack because it had the more forgiving and easy to use kuat style mounting, and because I can still use the 2x extension I already have.
This rack is good, but for some strange reason, the release grips to adjust the tire grip is on the bike side, making it hard to get between the tire to release when bikes are actually on the rack. I seem to find every Yakima rack I've owned (half a dozen at this point) to have some really easy to fix design flaw. I don't understand it. I'm invested in the Yakima universe, so I continue to find racks that I hope will function flawlessly, but I've yet to do so. This one is closer, and certainly better than the last, but man, I don't know why they don't test these things out well enough before producing them.
Finally, the other thing I've found is this rack will handle 29ers, barely. Does okay with 2.3' and probably a little wider, but much bigger than that, or any higher volume 29' tire may not be able to have the top cinch thing fit over it when securing the bike. It's tight as is.
Thank you for your feedback.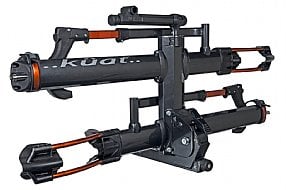 Quality rack, great features
I replaced an older Yakima hitch rack that was a workhorse but not built for fat bikes. Given its age, I decided to move to the Mercedes of racks, the Kuat NV 2.0 rack.
From the initial unboxing, I noted the quality build of this rack. It is very solid and all metal surfaces are covered with a thick paint that should hold up to corrosion from rain or NY salted winter roads.
The features are excellent as well, from the built-in cable lock (that would only be used to lock the bikes for quick stops while transporting, not for overnight or otherwise lengthy stops), to the fat tire compatibility and the sliding rear tire strap that adjusts to the bicycle's length. There is even a ball bearing on the bar that slides into the hitch, making installation and removal much easier.
My Yakima had to be screwed into the hitch very tightly with its included hitch bolt in order to prevent the rack from wobbling. The Kuat provides a dial on the outside of that bar that you simply hand tighten to prevent rack wobble. So much easier.
You definitely get what you pay for with this rack.
Thank you for your feedback.