Oils, Lubes, & Cleaning Supplies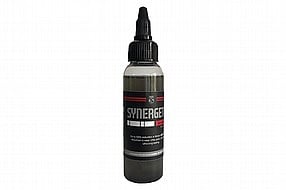 Cycling Enthusiast
Washington, Utah
2 of 2 customers found this review helpful.
Super quiet lube that works
I've used many different lubes through the years for my road bikes. This is still an oil based lube but actually runs cleaner than most. The noticeable thing for me is how much quieter and smoother my drive train runs. I'm a fanatic about putting my bike on the stand and wiping it down after every ride. Included with this is a meticulous pampering of my chain. I tried the UFO wax formula and it seems to work for the 1st 5 to 10 miles before I can hear it wear off which brings to question whether the wax method really is lubing good. The bonus to the wax though is how clean it stays. In the dry dusty region of southern Utah where I ride the Silca Synergetic works great. I don't mind wiping it after every ride since that's a habit for me anyway. It's just that it is so noticeable how it really is working. Chain wear is negligible. I reapply after each 100 miles although I know I could go farther. Night and day difference between this lube and for example Rock n Roll Red or Gold. I'm sold and don't see changing for years to come. It seems more expensive per bottle but you use so little in the application that it lasts long too. If you are tired of the wax thing and aren't put off by wiping off your chain regularly then you just can't find a better lube in my opinion. Do you like a quiet drive train? Then, you better try it! Cheers and happy riding...!
Thank you for your feedback.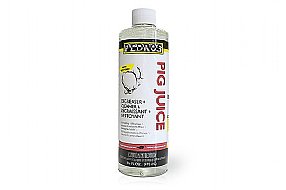 Cycling Enthusiast
Liberty Lake WA
1 of 1 customers found this review helpful.
The secret is in the scrubbing.
Pig Juice seems to clean about as well as any other chain degreaser I have used. It takes at least two changes of it in a Park Tool cleaning device to remove all the visible gunk on the chain. I then hose the cleaner off with water and finish with compressed air blast to blow out the residual water. I then lub using Rock n Roll Extreme. I have found the chain is rather black after just one 40 mile ride. I have since altered my cleaning procedure. I use the two coats of Pig Juice, wash it out with a hose and water and blow dry. I then finish with Oil Eater degreaser. This last product seems to remove the residue left behind by the Pig Juice. I then wash again and blow dry with compressed air and then lube the chain with afore mentioned lube. The chain remains noticeable cleaner after just one ride than with just the Pig Juice. This is my subjective observation. I do think that the stronger degreasers leave a residue behind that attracts dirt more quickly. This is hard to prove one way or the other, especially so when you put a sticky oil based lube on the chain. I suspect that the stronger the degreaser the more likely that a residue remains. The Oil Eater degreaser will hardly clean the chain if it is used first. But it seems to get the residue off.
Thank you for your feedback.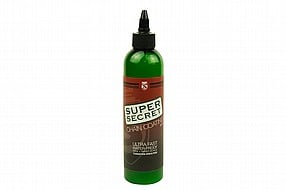 Cycling Enthusiast
Bogota, Col
3 of 4 customers found this review helpful.
SILCA SUPER SECRET CHAIN LUBE
This chain wax is amazing. I followed the Silca videos and stripped the chain of all factory grease then submerged it in the super-secret wax. No need for a croc pot, heat the wax, clean it up/ or have the time and space for that process etc... the drive chain is very clean all the time and wipes clean with the Silca gear wipes (after several hundred miles or after a ride in the rain). After cleaning with the gear wipes, I let it dry and apply the super-secret from the drip bottle. After 500 miles or so ill removed the chain and stip the wax with only degreaser, let it dry then re-submerge in the wax... I used the Smoove Lube, this is a lot better. Completely stripping the factory grease with Silca's instructions and submerging is the way to go. if you find yourself tired of trying to remove grease from all parts of the drive train....this is worth it.
Thank you for your feedback.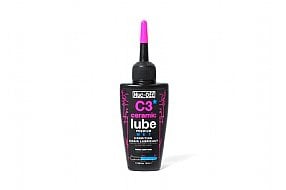 Cycling Enthusiast
Portland, OR
The best lube I've ever used
The hype around the Ceramic line from Muc-off put me off at first. It just seemed to good to be true. I've been using C3 for about a year now, and its as good as advertised. First, it really does keep you chain cleaner. Not at all sure how that works, but dirt just doesn't seem to accumulate the same as conventional lubes. Second, it is so quite. After I've done a thorough chain cleaning, I can hear the chain click-clack as it goes through the gears. Lubing it with C3 and the sound almost disappears--its amazing. But the real proof is in its smoothness. It is literally noticeable as soon as the chain is lubed--it spins noticeably faster and smoother. True, this stuff is expensive. But if drive train operation is your holy grail, C3 is fantastic. I use Dry in the summer, but really prefer Wet at least 75% of the time.
Thank you for your feedback.