Oils, Lubes, & Cleaning Supplies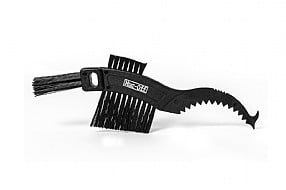 Cycling Enthusiast
NorCal, CA
1 of 1 customers found this review helpful.
Brush it Off...
Great brush for getting into the nicks and crannies of your bike after a heavy day of "dirt farming". If you forgot to pack the gaps in your frame with expandable foam this claw / brush is great for cleaning your bike in spaces where water might not do as great a job. It has 3 brushes for cleaning the chain, cassette and sprocket and an integrated scraper for cleaning derailleur pulleys/jockey wheel that always seem to get mucked up. Recommend wearing gloves when using.
Thank you for your feedback.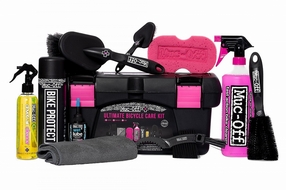 Cycling Enthusiast
Los Angeles, CA
Meets expectations
This set is not only great because it provides everything you need to clean your bike, but also gives you a place to put it all (the tool box). The cleaning products are high quality and work! They also have instructions on each of the cleaners and brushes to let you know how they are used. The spray on wax leaves my bike very shiny to the point you can see your reflection. I've ridden on gravel trails and this cleaning kit gets my bike looking like new every time I use it.
Thank you for your feedback.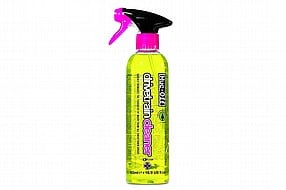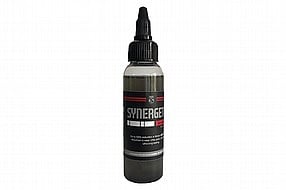 Cycling Enthusiast
Washington, Utah
5 of 5 customers found this review helpful.
Super quiet lube that works
I've used many different lubes through the years for my road bikes. This is still an oil based lube but actually runs cleaner than most. The noticeable thing for me is how much quieter and smoother my drive train runs. I'm a fanatic about putting my bike on the stand and wiping it down after every ride. Included with this is a meticulous pampering of my chain. I tried the UFO wax formula and it seems to work for the 1st 5 to 10 miles before I can hear it wear off which brings to question whether the wax method really is lubing good. The bonus to the wax though is how clean it stays. In the dry dusty region of southern Utah where I ride the Silca Synergetic works great. I don't mind wiping it after every ride since that's a habit for me anyway. It's just that it is so noticeable how it really is working. Chain wear is negligible. I reapply after each 100 miles although I know I could go farther. Night and day difference between this lube and for example Rock n Roll Red or Gold. I'm sold and don't see changing for years to come. It seems more expensive per bottle but you use so little in the application that it lasts long too. If you are tired of the wax thing and aren't put off by wiping off your chain regularly then you just can't find a better lube in my opinion. Do you like a quiet drive train? Then, you better try it! Cheers and happy riding...!
Thank you for your feedback.