Vittoria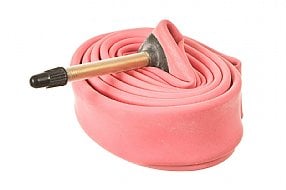 Cycling Enthusiast
Liberty Lake, WA
Very Pleased with the tube
I bought these latex tubes after reading many of the reviews of the product. They are what all the reviews say they are. Light, supple and fragile. I got 667 miles out of the front tube before it went flat. On removal of the tube the hole was located at the base of the stem where the two ends of the tube are joined. After spending a few minutes inspecting the hole and the area around the hole, it looked like the tube may have been rubbing either on the rim tape or some irregularity in the wheel, even though I couldn't feel any irregularity that seemed sharp enough to cause the proble. The wheel is a DT Swiss R470db. I used an idea I got from the LBS some years ago and cut out a piece of butyl tube about 2.25 inches by 1 inch. I punched a hole in the piece and slide it over the stem to give that area of the tube a little more protection. Time will tell if this was a good fix or not. The last point about the tubes is Vittoria claims they may decrease the rolling resistance of the tire assemble by as much as 5.5 watts. Again this is something I can't personally verify but assuming it may be true, that works out to about $3.00 per watt of decreased rolling resistance. I think that is a bargain.
Thank you for your feedback.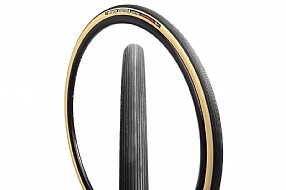 Cycling Enthusiast
Portland Oregon
Finally found my answer, after blowing out 4 tires in two years.
I'd been using tubeless for some years - great on the long country road rides, but getting to some rides through Portland often takes one through glass. Pinpoint punctures on tubeless are no problem, but a 1cm slash is devastating. And expensive. I decided to go back to using tubes and giving up the smooth ride on tubeless, but with the 30c Vittoria I could run lower pressure, get the ride smoothness, the cornering, and on-the-road reparability. The rubber is super grippy, reliable on rain or rotting leaves. The high thread count casing is quite apparent, providing a supple feel during high speed cornering.
Thank you for your feedback.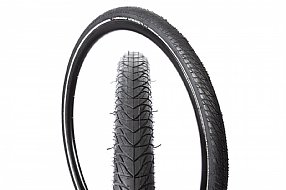 1 of 1 customers found this review helpful.
Excellent Touring/Commuting Tire - Bombproof
These tires are fairly heavy (~1000g), but the downsides stop with that. Reflective sidewall, high volume design, semi-slick tread, beefy sidewalls, perfect manufacture, rock-solid puncture resistance and a feeling of confidence make them completely trusty as daily commuters through goatheads, glass, and random road junk. I ride them almost daily and am 250+ miles in with no concerns whatsoever. Run at 60 psi they are a comfortable and fast tire on a mt bike converted for road use - I routinely hit 25mph pedaling on flat stretches. Will take them on a tour in NM soon and have no worries about flats. Only thing I think that might sink them would be a roofing nail or the like, which would do in any tire. I ride through broken glass both ways to work (bridge sidewalk, no way to avoid it) and though I keep stopping out of habit to pull glass out after particularly bad patches, I have yet to find a single piece embedded. I bought these hoping they could kinda stand up to this but am blown away. Much better than Panaracer TourGuard Plus and on par with Schwalbe Marathons, for like half the cost.
I am extremely pleased with these after having taken a chance - never had Vittorias before this and these didn't have many reviews. For the $35 or so WBW charges they are a steal, especially if they last.
Thank you for your feedback.
Cycling Enthusiast
Maryland
Great Tire Smooth Ride Puncture Resistance
Only recently have I begun to use this tire brand more extensively, than the Continental Grand Prix I use to ride on my road bike. Main reason at first purchased new aero rims, and could not for the life of me install or even remotely take off the tire from the rim, even with the tire tool. Purchased these tires and install as I normally would. Find the rolling resistance and puncture resistance the same as the Grand Prix. Have about 500 miles on the tires with no issues. Also they come with a Red sidewall that matches my frame.
Thank you for your feedback.