Shimano
Competitive Racer
Minneapolis, MN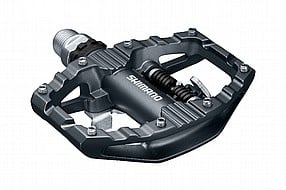 Cycling Enthusiast
Bellingham, Wa
An excellent pedal for those who want pedaling options for different kinds of rides without the need for specialized shoes.
I have three bicycles. One is a full suspension mountain bike, one is a gravel bike and one is a road bike. The mountain bike has flat pedals and other two have dual sided pedals. The dual sided pedals work well because, on any given day, I could be commuting, hiking, camping, club riding, etc. and I don't have to have or want special shoes for each type of ride. The pedals are well made. Plain shoes (street, tennis, hikers, sandals etc.,) do not slip off the flat side of the pedal and SPD equipped shoes easily clip in and out. I highly recommend them for their versatility and quality.
Thank you for your feedback.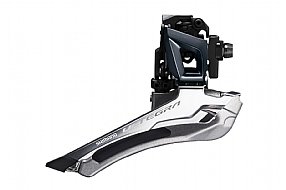 Cycling Enthusiast
Portland, Oregon
Fast, Smooth, Reliable Shifting
This is by far the best front derailleur I've ever used. Shifts are lightening fast, silky smooth, and absolutely reliable. It was a little tricky to cable -- after passing through the pinch bolt, the cable wraps around the front of the housing then passes through the protective cap and back toward the rear wheel -- but once I figured out the cabling and adjusted the stops, it works great. Shifting is effortless and precise, and the price was very reasonable given the derailleur's quality. I highly recommend this derailleur. Get it -- you won't regret it!
Thank you for your feedback.
Cycling Enthusiast
God''s country, Northern Michigan
A good chain is your best friend.
When things go wrong with your transmission it's easy to blame the components that YOU have manipulated.
A bicycle is no different than a performance car.
Tuning is critical. Micro adjustments are a fact of life, and a piss poor chain line is a recipe for early chain and casset failure.
I only use original manufacturer parts because I understand that they are engineered to work together in harmony when properly installed.
Semper Fi Shimano, you are the cat's meow!
Thank you for your feedback.