XLAB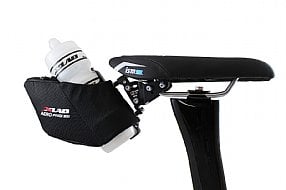 2 of 2 customers found this review helpful.
Nice small bag for the XLab single hydration carrier
I was on the fence about getting the single bottle holder because it blocks (on my bike set up) the use of a traditional saddle bag and I don't like filling up my jersey pockets with all the 'just in case' tire repair stuff on top of nutrition that will be in there anyway. This has just enough room for the essentials - I have tire tools, a tube, 3 CO2 cartridges, a patch kit a multi tool and a CO2 dispenser head in it. You do need to be very deliberate about how things are oriented and placed in it to maximize what it will hold. It's not in the way and seems to be an aero design. It will definitely make the grip on the bottle in the holder quite snug. I left a full bottle in it over night to help stretch the bag a bit.
One thing nice about the tight grip is this will now keep a 25oz Camelbak style bottle in there without ejecting it on bumps, it wouldn't before - only bottles with a more traditional shape. Very happy with it, good purchase.
Thank you for your feedback.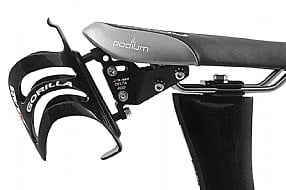 1 of 1 customers found this review helpful.
Holds bottles tight and out of the way
This is a bit fiddley setting it up with all the fasteners but once it's on it works great for me. I put it on my BH G7 to have another bottle holder for longer rides (centuries) without getting in the way of throwing my leg over the saddle. It holds the bottles that are designed for it very well, bottle launchs for me yet including a few bumpy railroad crossings. It is a bit difficult to pull a bottle out of though, need to twist it a bit to get it out. I haven't tried it with full Camelbak bottles, and probably won't as I have heard those won't stay in, empty Camelbaks stay in fine though. As soon as I finish my first bottle from a frame mount bottle holder I swap it with the one in this saddle mount so I can finish the uninsulated bottle before it get's too warm. I would definitely recommend this one for anybody looking for a single bottle holder to attach to their saddle rails.
Thank you for your feedback.