Schwalbe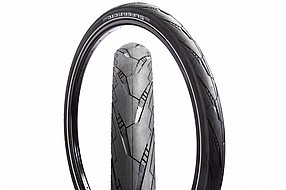 About what you�d expect from Schwalbe
Excellent quality tire, looks a lot like a motorcycle tire.
The puncture protection is fairly good. The tread area is dramatically thicker than the sidewalls, perhaps 200%. I did, after about 1,100 miles commuting on my ebike, get a flat; I caught a 2 inch long piece of metal that drove straight into the center of the tire.
I was worried that heavy tread would make the tire feel slow but having switched both e-randoneurs to schwalbe tires I�m rolling faster with a noticeable improvement in battery life.
Comfortable tires rolling, the sidewalls are far more supple than I expected and with reasonable air pressure they smooth out bumps very effectively.
A definite upgrade over the OEM tires on my fairly expensive EBike.
Thank you for your feedback.
Cycling Enthusiast
NorCal, CA
4 of 5 customers found this review helpful.
Wicked as they come for now...
Great tire for the rear, very similar pattern to the Nobby Nick. Just wish the soft compound for the front was available for those seeking replacements for their Scott and Canyon bikes. I have two Wicked Will Super Ground in the speed grip compound to replace some well loved Super Race in mixed compounds of Speed Grip in the back and Soft (orange in the front) that came stock on my bike. The Super Ground have stiffer side wall between Super Race and Super Trail depending on what terrain you hit with your bike it is a great tweener tire of the 3 types. It is only slightly heavier than the Super Race with more side wall protection and you can really run the pressures low on this tire. 21 PSI rear and 19 front is how I am currently running it for my area. Schwalbe only sells these currently to OEMs and not direct to consumer. :( Great fast rolling tires for dry, hardpacked to hero dirt conditions. If it gets wet/muddy it may be good to switch to a Magic Mary front in soft or ultrasoft compound for some extra grip and mud shedding its a great combo if you are mostly heading downhill in the wet and sticky. For cross country and general trail riding Wicked Will is holding up great and really bites into corners and provides great uphill grip for the trails in my area.
Thank you for your feedback.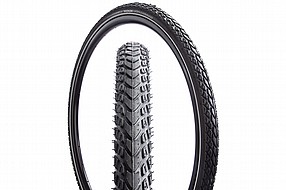 Cycling Enthusiast
Longmont, Coloado, USA
2 of 2 customers found this review helpful.
Best touring bike tire I've ever used
I've been riding the Schwalbe Marathon Mondial tires for over 8 years. I had a Surly LHT 700C and had been riding the Schwalbe Marathon Plus tires for years. But in 2016, I bought a custom Co-Motion Pangea (26" wheel) and it came with the Schwalbe Marathon Mondial beaded 26"x 2.0 tires. Rode those on several tours but as the bike has the S&S couplers, getting the beaded Mondial tires into the S&S hardcase was a bit of a problem. Started riding the Mondial 26x2.0 folding tire and liked it better, it's lighter, easier to mount and just as resistent to tire flats. So I've been riding the folding Mondials now for about 5 years and can't remember the last flat I've had riding these tires. This past summer I rode the EuroVelo 6 from Paris across France to Romania through some knarly trails in Hungary, Slovakia, Romania and Serbia, lot of rock and had zero flat in the entire trip. I highly recommend these tires for bike touring. The folding Mondial is getting harder to find and when you do find them, they want $80+ for a single tire which is why I'm going back to the beaded (since I don't use my S&S hardcase for travel around the world anymore) Mondial as it's about 1/2 the price.
Thank you for your feedback.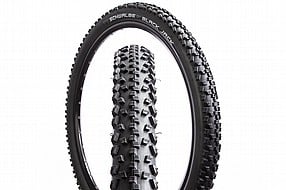 1 of 1 customers found this review helpful.
Great so far
I wanted something for my old Kona Unit that looked good, would roll smooth on pavement, were reasonably priced, and would allow me to go on hard pack/gravel occasionally. These meet all these needs. I�m glad that Western Bikeworks had them available - they were hard to find.
Thank you for your feedback.