Saddles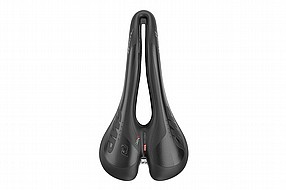 1 of 1 customers found this review helpful.
Good saddle, but
Been riding for many years and have tried dozens of saddles through the years, searching for that saddle that will make the longer rides (3-10 hours) just a little more comfortable and doable. I'm not interested in paying $200-$infinity to save a few grams to shave off a few seconds an hour, so for me it's about finding saddles that balance comfort, performance and value. Most saddles I buy are around $80-$100, so this one was a step up in price. A very good saddle but for me not appreciably better than many I've bought at half the price, so I can't say it was a good value for me. For reference, I've put about 1500 miles on this saddle so far on all sorts of rides, so that's plenty of time to assess and adjust.
Thank you for your feedback.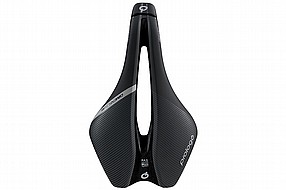 Cycling Enthusiast
Redmond, WA
Happy Buttocks
My first experience with a Prologo saddle so I was a bit wary when I ordered this item. I previously used a Selle San Marco Era followed by a Fizik Arione. The Selle San Marco provided me with years of pain-free riding but finally wore out and is no longer available. I had high hopes for the Fizik Arione but it simply did not match my backside and became increasingly uncomfortable. Based on glowing reviews from several of the major cycling websites, I decided to give the Prologo a try even though I had never ridden a short-nosed saddle with a wider width than I was used to. Within a few miles, I knew this saddle was for me--firm yet supremely comfortable. Short-nosed design means if you like to shift your seating position during different phases of your ride--I don't--then it's not for you. My rides are typically 40 - 60 miles long. During the summer months I'll ride three to four times a week. I'm a small-to-medium framed individual weighing about 130 pounds. Other pluses: very lightweight and the saddle seems well-made. I'm very happy with this saddle and cycling is a joy again.
Thank you for your feedback.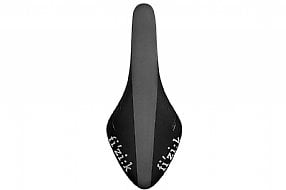 Cycling Enthusiast
Northeast
1 of 1 customers found this review helpful.
Forever Fizik
I rode with thin Italian saddles for many years and for the last 5 or 6 on an Arione VS which I think has been discontinued. In my quest for replacement I have suffered painfully as I got caught up in the cut-out and width rabbit holes. Coming full circle I decided to try the Arione R3 because it comes in a wider version. Well the padding is much too hard so I am considering the purchase of the original Arione Classic which hopefully has padding equal to the VS. I have come to the conclusion that sit bone width is overrated because with the forward lean on a road bike I don't actually sit solely on my sit bones. The quest continues. I rode approximately 4,500 miles in 2021, am 60 years old and average around 17 mph in a mountainish area.
Thank you for your feedback.
Cycling Enthusiast
Pottstown, PA
1 of 1 customers found this review helpful.
What's not to like?
Bought this saddle as part of a restoration/conversion of my 1974 Raleigh Gran Sport into an upright touring bike. I had a Brooks B17 Narrow on it when I was riding it in its original configuration with the drop bars, so it was an easy choice to pick the Brooks Flyer when I swapped the drop bars for the touring bars. Being more upright meant that the B17 Narrow was no longer comfortable and the Flyer was a PERFECT replacement - same great look on the bike, same saddle connections for my leather bag, and soooooooooo comfortable. I was worried how the springs were going to look and was considering just getting the B17, but I'm really glad I went with the Flyer - just enough suspension to smooth things out and with the bag attached the springs are largely hidden from view. I love the vintage look, comfort, and quality of the Flyer and even though it is perfectly comfortable right now when brand new, I know from my experience with the B17 Narrow that it will become even more comfortable after more use. If you have a vintage steel ride and are sitting upright, this Brooks Flyer is a great saddle that will look and feel great!
Thank you for your feedback.