Best Sellers

$239.99
Total Savings:
$10.00 (4%)
Unique cut away and dropped nose offer pressure relief in a lightweight race saddle. 270g. 266mm x 136mm.


$127.49
Total Savings:
$22.50 (15%)
The ISM PN 1.1 saddle provides all the race-proven benefits of the famed Attack saddle but adds a little more cushion to the highly-vaunted narrow performance shape.

The most popular Brooks saddle model for over 100 years. With superior comfort and classic style. Available in various colors, all with black steel rails. 530g.


$127.99
Total Savings:
$32.00 (20%)
Advanced lightweight design and women-specific shape with a Gel Flow cutaway center.

A little extra flair over Brook's classic B17 model with mid-sized copper rivets and copper plated rails. 540g.


$104.99
Total Savings:
$45.00 (30%)
Fizik brings a more affordable price tag to the popular Aliante shape featuring K:ium rails with less weight than titanium. 259g


$28.50
Total Savings:
$1.49 (4%)
A heavily cushioned design that's perfect for those uncomfortable on racing saddles.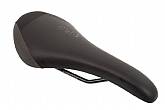 Fizik's Gobi MTB saddle is designed for Enduro and Marathon Cross Country riders to give you all-day comfort and race-worthy performance.

*Orders received before 3:00PM Pacific time are shipped the same day (M-F). Orders over $75 are shipped free (USA only, excluding AK and HI). Some exceptions apply. See Shipping for details.