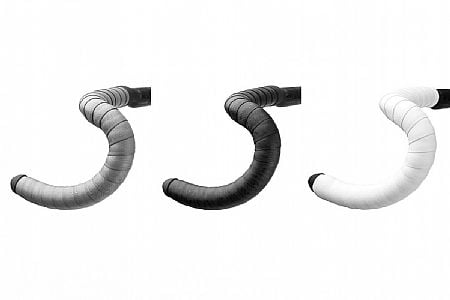 Favorite Bar Tape
Cycling Enthusiast
Seattle, WA
2 of 2 customers found this review helpful.
Replaced Fabric tape which was worn out. This stuff is awesome. Very easy to install, and has added a huge amount of comfort to my gravel bike.
They grey color has gotten darker from use, but otherwise the tape is holding up great. I will be installing this on my road bike when I need to in the future.
Thank you for your feedback.
What is this
Cycling Enthusiast
Saugus, MA
1 of 1 customers found this review helpful.
Wrapping my bars with this tape was a genuine pleasure, this stuff stretches nicely, stays in place and is very pliable - the figure eight technique around the hoods was so easy and the finishing tape is excellent. As others have mentioned there is a ridiculous amount of tape, I did a fairly generous overlap on 44cm deep drop bars and still had way more than I needed. I was using Fabric Hex Duo (not the most durable) and thought that was the best out there until I tried ENVE's tape, this is exactly the feel I was looking for without realizing it. The squishiness and grip are just perfect in my opinion, I don't ride in wet conditions often it has been fine for me with sweaty hands. It's funny because when I felt the tape before it was on my bars I wasn't that impressed, I honestly didn't think it would be as grippy and soft while still feeling like it might actually be durable. I'm really hoping this tape lasts a while since it is quite expensive especially considering the end plugs are the most basic kind, I would like to have seen the same that Supacaz or Fabric include with theirs but I didn't feel like that was enough to deduct a star from my rating.
Thank you for your feedback.
Nice, but slippery when wet
Cycling Enthusiast
Massachusetts
I installed this on the road bike. Looks sharp. Pretty simple to install, with a good amount of stretch. However, for me at least, the tape does not "ensure grip in wet conditions." I have to wear gloves when there will be sweat/rain. For $30, I think it's a decent value.
Thank you for your feedback.
Long and super grippy
3 of 3 customers found this review helpful.
I swapped out my alloy gravel bars for the Enve G series carbon gravel bars. They were just enough longer that I wasn't able to re-use my bar tape. I decided to give the Enve bar tape a try and have been really happy with the purchase. The tape was plenty long enough, and much more grippy than what came on my bike originally. The tape looks really sleek as well. You can wrap it one of two different ways, with either the small Enve logo or the large Enve logo showing. I've tried multiple bar tape on my various bikes and I'm super happy with the Enve tape and will be using this again when it's ready for replacement.
Thank you for your feedback.
Boring but functional
1 of 1 customers found this review helpful.
This Enve bar tape works. It's effective in reducing rattles from chip seal rides, it's nice and grippy, it comes in a length that lets you decide how far up the bars you would like to go.
I have tried many bar tapes and my biggest complaint is usually due to the amount of slipperiness achieved from rain, or sweat. This tape is better than the lizard skin I tried most recently. Unfortunately last no glove ride I did, the tape began to approach an uncomfortable loss of grip. The tape only covers in boring colors, no wild colorways if you are trying to make a statement.
Why I probably will give it a second shot later is in addition to cushion, dry grip, generous allotment, is the tape is much better at letting go of and hiding grease for those days where your chain requires maintenance mid ride and you don't have gloves. My lizard skins started red and after a couple tire changes were a significantly drabber black red. I know, my mistake but no amount of dawn soap would hide my transgressions. These guys let go of stains much more readily.
Give these a try you probably won't regret it, but you may miss the curb appeal of oil slick color schemes that seem to be popping up all over.
Thank you for your feedback.
Excellent grip
Cycling Enthusiast
Puerto Rico
2 of 2 customers found this review helpful.
I've tried many handle bar tapes on my bikes, during more than three decades of cycling. This tape is above and beyond the best. I love the grip, wet or dry. It doesn't fade, it doesn't sag, and doesn't leave bad odors from sweat if I don't wash the bike right away. I know it is a bit expensive, but most of the tapes now a days are close are about the same price. Every time I use the bike, the tape feels fresh and new. Won't be changing brands any time soon. All my bikes have it now.
Thank you for your feedback.
My Go-to Tape
While trying to find the right handlebar for a gravel bike i went through several different bar tapes. This tape from Enve seems to be the right one for me. Good cushion, good grip and the silicon strip is, in my opinion, far superior to the normal adhesive "tape" style. Makes repositioning a much easier task.
Thank you for your feedback.
One of the best bar tape
1 of 1 customers found this review helpful.
I was a bit skeptical of spending $40 on bar tape but Im glad I did got nice grip to them wont slip nice gel cushion on them too works great with cycling gloves absorb a lot of bumps
Thank you for your feedback.