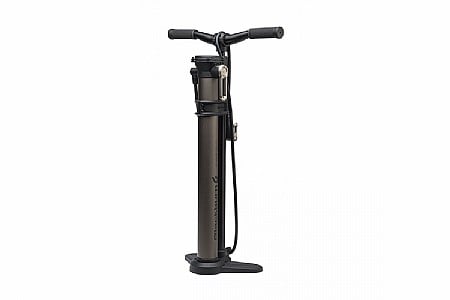 User submitted reviews
Review by JG
Works Fantastic
Used almost daily, on several bikes, for over 18 months now and it will inflate tubeless road and gravel tires easily. Helps if you tug the tire bead up onto the bead shelf on the rim, grab both side of tire and pull it outward, while pushing your thumbs into center of tire, go around entire tire and it'll air right up easily. The lever for "Charge" then drop the lever to "Release" air from pump into tire is key for tubeless success!
Thank you for your feedback.
Review by MRod
Disappointed - Chamber function doesn't seem to help
Competitive Racer
San Francisco, CA
2 of 2 customers found this review helpful.
I've tried the chamber function now in attempting to mount 4 different MTB tubeless tires from 3 different brands, each time trying it both with the valve core in and removed, and each one has resulted in the same outcome as before I got this pump, which is taking the tirerim to my LBS to have them use their air compressor to pop the tire on. It works fine as a regular floor pump, although my favorite floor pump remains the basic (and cheaper) Park variety.
Thank you for your feedback.