Maxxis
Excellent protection and performance.
I use this tire in a 'dual sport' mode. Half my riding is heavy braking and bad lines that we coaches encounter while sweeping NICA student athletes. The other half is pounding singletrack. The EXO+ is very appreciated. I have many sidewall scuffs after half a season but no rips, stretches or weeping sealant. I run 19 lbs for a 185 lb rider on a FuelEx 9.7. the wide rims really hold the 2.6 wide tires with out rolling the tire on hard turns.
Thank you for your feedback.
Competitive Racer
St. George, UT
Great Tire with Trail Capability and XC Weight
I use this tire as an all around trail and XC race tire. It's EXO sidewall protection is a must where I live due to the sharp rocks that litter our trails. The weight is not super light, but it is very respectable given the sidewall protection, which to this point has never let me down. The wear of the dual compound is much better than the 3C which seems to show signs of degradation within 3-4 rides. I love the looks of the tanwall as well.
Thank you for your feedback.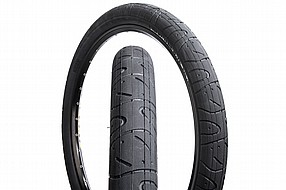 Casual Cyclist
Norwalk, CT
Great durable, fast-rolling, street tire
I love the hookworm. I had a pair on my hardtail a couple years ago and they lasted me 3+ years of abuse. Now, I installed a set on my 650b mountain bike as I am unable to get to the trails as often as I like, but I still wanted to have fun on it. Well, the formula is still the same. I've ridden over glass without a puncture, and the grip around corners is still incredible. The width is great and doesn't take away from the "look" of the bike overall. Once inflated to 60psi, I am able to fly by my roadie friends on the down hill. Was super happy with this tire in the 26 inch version back then and still am with this 650b version.
Thank you for your feedback.