Chrome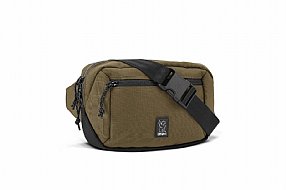 2 of 2 customers found this review helpful.
(Almost) Everything you want in a bumbag!
I'll keep it short and to the point:
PROS:
- Great, rugged material; it's built to last many, many miles.
- Ample space inside the bag (i.e., 24 oz crowler, rolled up Houdinin jacket, repair kit, hat, headphones, smashed PB&J, etc.)
- Smaller zipped pouch allows for easy access to often needed items (i.e., keys, facemask, Clif bar, bikelights when dismounted)
- Water-resistant lining in the pouch interior, I've ridden multiple times in the rain with this bag, dry as my whistle as I write this...
- Boxy, flat body allows for plenty of cargo while planting it firmly against your body, this is ideal because I hate a sloppy bag that bounces around.
CONS:
- No interior loops for key chain
- No daisy chain on the outside (maybe above the logo?) for placing rearlight when riding. But I knew that when I purchased it, I have eyes.
- Unless you are an absolute giant on two wheels, the waist strap is very long and will hang out as slack once buckled and cinched. I'm not sure why they were so generous with the webbing they used for the strap. I guess I just worry about it getting caught on side-mirrors, doors, e-scooter handles...
- Expensive. But, you're buying a bag for at least a decade and you'll have Chrome's 365 TO LIFE guarantee.
Thank you for your feedback.
4 of 5 customers found this review helpful.
Tested Best
I tried several bags for an upcoming trip to carry rain gear and sneakers and this was the only bag that could do it with its minimal footprint. The buckle is big but the arrangement of the bag was such that I forgot I was wearing it.
Thank you for your feedback.
Daily Commuter
San Francisco, CA
Ideal Commute Backpack, Super Versatile too!
I've been an owner of the barrage cargo backpack for a couple years now. I am an avid cyclist commuter and this bag provides all the functionality and protection I need. The cargo netting is perfect for stowing my walking shoes since I ride clipped-in. The welded bucket lining provides waterproof protection for all my precious gear and the bag itself is super cool looking to boot! It's also made right here in the USA!
I highly recommend this backpack to all cyclist commuters.
Thank you for your feedback.
This pack is the bomb!
Switched from an Osprey to this pack and am never going back. Perfect size for commuting, waterproof that doesn't require a stop to put on a rain cover, and most importantly, extremely comfortable. When I picked up the pace at Western Bike, the sales associate told me it was her favorite pack and after a few months of use it is mine also.
Logical layout and plenty of room
Thank you for your feedback.