Brooks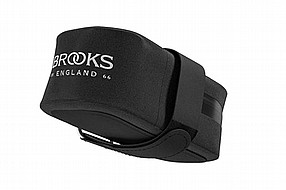 Cycling Enthusiast
Portland, OR
Sensational Bag whose size belies its carrying abilities.
It is simply amazing how smart and simple of a design this seatbag, my chosen application for it, but can be attached to other Ortleib products, is. The clean look, amazing one simple pocket that holds more than you may think. This is my second bag, use this one for gravel and carry all the essentials CO2 inflater w two vials, Multi tool, wheel Boot x 2, spare Schwalbe Aerothan tub, tubeless tire patch kit and one tire lever wrapped with Electrical tape. Cannot go wrong with this bag and simple design, also allows for rear lights or Garmin Varia Radar for the road bike vs bags that hang lower and wear on your shorts.
Thank you for your feedback.
Cycling Enthusiast
Pottstown, PA
2 of 2 customers found this review helpful.
What's not to like?
Bought this saddle as part of a restoration/conversion of my 1974 Raleigh Gran Sport into an upright touring bike. I had a Brooks B17 Narrow on it when I was riding it in its original configuration with the drop bars, so it was an easy choice to pick the Brooks Flyer when I swapped the drop bars for the touring bars. Being more upright meant that the B17 Narrow was no longer comfortable and the Flyer was a PERFECT replacement - same great look on the bike, same saddle connections for my leather bag, and soooooooooo comfortable. I was worried how the springs were going to look and was considering just getting the B17, but I'm really glad I went with the Flyer - just enough suspension to smooth things out and with the bag attached the springs are largely hidden from view. I love the vintage look, comfort, and quality of the Flyer and even though it is perfectly comfortable right now when brand new, I know from my experience with the B17 Narrow that it will become even more comfortable after more use. If you have a vintage steel ride and are sitting upright, this Brooks Flyer is a great saddle that will look and feel great!
Thank you for your feedback.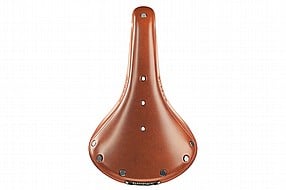 0 of 3 customers found this review helpful.
Brooks b 17 saddle
Have been a Brooks saddle fan for years, the love continues! Western bike works really hard, I had some logistics that I needed help with. WBW really strives to keep their customers. Happy in NW MONTANA.
Thank you for your feedback.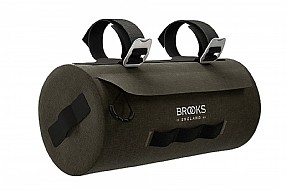 Cycling Enthusiast
bogota, co
Brooks Scape on bike packing trip
i used this handlebar bag during my last overnight backpacking trip. i filled it with rain gloves, a jacket, and lots of extra clothing items i figured i would need quickly while riding. the bag withstood hours of rain and had no leaks. it looks good and it is not bulky or heavy. i have kept the bag on full time. minor cons...The rain flap will stand straight up as you ride with speed/ downhill and I need two hands to unzip. there are loops on the side that i need to hold while unzipping.
Thank you for your feedback.