Bell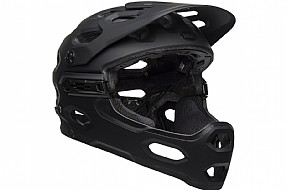 Jack of all, master of none
I rarely require a full face helmet, but like having the ability to throw the chinbar on for those few rides a year where it's needed. The helmet is not the most comfortable on my head (I'm a pretty ovular and oddly shaped head to be fair) and luckily I've not had to rely on the helmet's protective durability yet. As a standard helmet, it seems a bit ill fitting and isn't the lightest. As a full face, it is nice to have the protection, but can't speak to it's performance (thankfully). Once done a few times to figure it out, the ease in removing and refitting the chinbar is greatly appreciated and easy to do without taking the helmet off making for a nice situation if wanting to remove for climbs, et al. Overall, it provides a decent value for those looking for a dual purpose/removable chinbar helmet, and if like me you don't need a full face too often, it can be a nice addition to your helmet quiver but I don't use it as my primary personally due to the fit on my head.
Thank you for your feedback.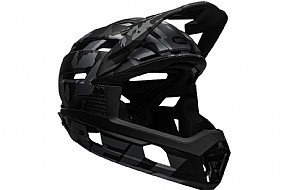 1 of 2 customers found this review helpful.
Great Helmet, Phenomenal Customer Support
I was debating between the Bell Super Air R and the Bell Super DH and after talking with the Western Bike Works Customer Support, I went with the Super Air R. The CS rep took the time to talk about my local conditions, type of riding, and provided great answers to all my questions. After the fantastic help from CS, I went with the Super Air R and feel like the CS rep's advice was perfect. The helmet has been great, being able to remove the chin guard while climbing is perfect for the SoCal heat. The large number of air vents are well positioned to allow great airflow with and without the chin guard installed. The helmet ships with a thin set of cheek pads installed and a slightly thicker set in the box to allow you to dial in the fit. Sunglasses fit well for days when you don't feel like wearing goggles.
Thank you for your feedback.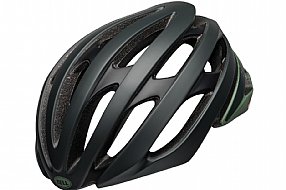 Cycling Enthusiast
Kailua-Kona, Hi
1 of 2 customers found this review helpful.
A Comfortable Helmet for Warm Climate Cycling
My well-used six year old Scott ARX MIPS helmet was due for replacement recently and this Bell Stratus fit the bill nicely. I knew that that the Bell brand would provide good crash protection . I ride in a hot, humid climate and good ventilation in a helmet is required. The Bell Stratus does a good job of directing the air flow to where it's needed. My only nitpick with this helmet is the small size of the chin strap snap closures, time will tell if the hold up but so far so good! I would definitely purchase this helmet again at a future date
Thank you for your feedback.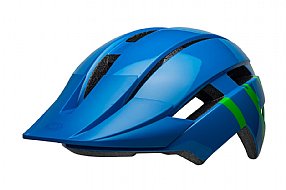 Cycling Enthusiast
New Jersey
If your noggin deserves MIPS protection...
I bought this mainly for the MIPS protection because I wouldn't be able to live with myself if my kid got a terrible skull injury that could have been prevented by spending an extra $20-40 on a helmet. I'm very pleased with the quality. My 7-yo son has been riding and scootering with the helmet pretty frequently for over a year and it's holding together very nicely. And definitely not because he's gentle with it :).
Thank you for your feedback.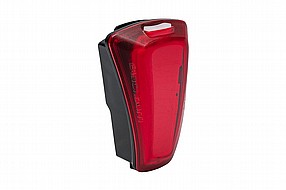 New!