Bags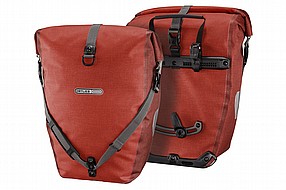 Cycling Enthusiast
Portland, OR
Perfect Pannier's
These are fantastic with all the elements that I love about Ortleib, namely a myriad of adjustments to the attachment clamp that is super easy, built in shoulder strap that also helps tie down load, internal pocket that hold laptop behind and zip pocket in front for storing all easily accessible objects that are needed, tools for commuting or hygiene and other bits that you routinely access when bikepacking. And super light and less bulky to fold down than the classic design with PU. The standard for panniers and 100% waterproof.
Thank you for your feedback.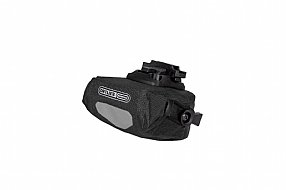 Cycling Enthusiast
Elk Grove Village, Il
My new favorite saddle bag.
I wanted an easy on/off bag big enough to hold all my stuff. This bag clips into a separate mounting bracket attached to the saddle. Easy one handed removal and replacement. Sturdy, will not accidentally fall off. I carry a gravel sized tube, CO2 inflator and spare cartridge, tire levers, disk brake removal tool, hex wrench multi tool, and a small cable lock with room to spare. The bag does not have a zipper closure. It's waterproof. The opening folds over and is secured by two elastic straps on either side. I have broken a few closure zippers in the past. This is a much better way to secure the opening. It's waterproof. I have never owned a waterproof saddle bag!
Thank you for your feedback.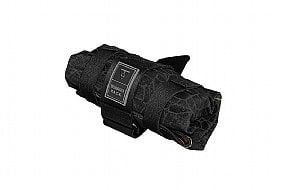 Competitive Racer
Tracy, CA
Great for dropper post clearance!
I now run the Burrito Pack on multiple bikes. It can fit a tubolito tube (29-inch mtb or 700C gravel), 2 pedros tire levers, multi-tool, 2 co2's (16oz or 20oz) with valve, and a pack of extra hardware with room to spare. All while still being tight and compact. I also really like when you have it off and unfolded, you actually get a pretty big surface to set small parts on. On the mtb's it is great how it does not interfere with the dropper post and doesn't touch the post at all.
Thank you for your feedback.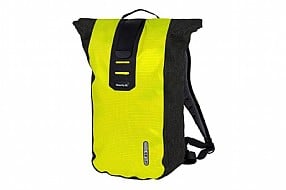 Daily Commuter
Portland, OR
1 of 1 customers found this review helpful.
Simple design, very high vis
Good pack, about the right size. Deeper than wide so you will need to be reaching down a relatively narrow bag to get to stuff at the bottom. The top closure works great and it is comfortable. There is a laptop pocket that hangs on the inside along the back which I wish it had more pockets/compartments since the pack is otherwise pocketless. Perfectly waterproof so far. The pack is very reflective and high vis during the day so it helps in preventing me from being run over (or so I tell myself). Like everything else I own, the surface of the bag does collect dirt which diminishes its reflectivity a little. I haven't tried washing it yet, but it does seem like it would be a little harder to clean than the regular, smooth bags that are not reflective.
Thank you for your feedback.