45Nrth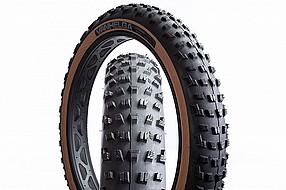 A really great fatbike tire for winter!
I run an offset-frame Surly Pugsley. I wasn't all that thrilled about the tires I had been using in the winters - Surly Nates. The offset-frame Pugs is spec'd to run a maximum width of 3.8" tire due to the clearance in the rear of the frame. This 4.2" wide Vanhelga fits just fine, with about as much clearance as the Nate. I bought one from WBW last winter to see if the tire would actually fit - and it did. I immediately ordered a second one - but it was sold out. It took nearly a year on backorder to get this one - and kudos to WBW for hanging in there with the order. So now I'm set for the snow. The Vanhelga is a fairly heavy tire, but the excellent traction and tracking on snow and slush is well worth it IMHO. FWIW neither Surly nor 45nrth would say the tire would work on the Pugs.
Thank you for your feedback.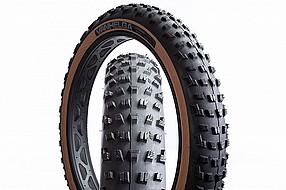 1 of 1 customers found this review helpful.
Great in the snow! A Pugs upgrade...
Needed new winter tires for my offset-frame Surly Pugsley. Not completely bowled over by the Nates I eventually wore out. I was hesitant to order Vanhelgas for the Pugs, as the "official" limit to tire width on my bike is 3.8", and these new Vanhelgas are "officially" 4.2" So I took a chance and bought this one - and it fit on the rear with plently of clearance, inflated to sufficient pressure for riding on snow-covered asphalt. I immediately ordered another one for the front. MUCH better than the Nate in terms of traction, especially in slush and ice. The Vanhelga seems like a really monstrous, heavy tire with a ridiculous amount of tread and siping, but it doesn't feel sluggish, even on dry pavement. I like it a lot!
Thank you for your feedback.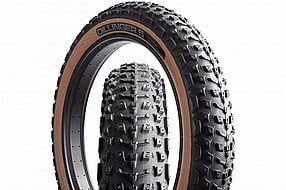 Built for traction and stability
Tires came promptly from Western Bike Works. Great service. These studded tires are amazing on ice...solidly secure grip is a huge confidence booster for winter riding. By definition, studded tires are going to be relatively heavy and significantly more expensive compared to non-studded tires. That said, 1) it's cheaper than a hip replacement or shoulder surgery that could result from an icy fall and 2) heavy and durable is much better than light and dainty in snowy/wintery conditions.
I was not able to take these tubeless on my HED Big Alloy Deal (BAD) rims. (These rims took my Schwalbe Jumbo Jims as tubeless instantly, for comparison.). I am running them tubed for this winter and notice the extra weight of the studs and tubes...but I call those #FitnessOpportunities and just appreciate being able to ride in the winter with nearly no fear at all. The only place where falls can happen are if there's a loose layer of slush or snow on top of the ice. If the studs can't get to the ice to dig in, then you can still fall/slip. That said, once you know this, it's pretty easy to read the road/trail to avoid or adjust to that situation as needed. If it's solid ice (like on a lake or something), ride on...because it's awesome!
I love the gumwall look on my 9Zero7 Tundra fat bike. So much fun!
Thank you for your feedback.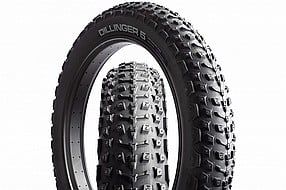 Cycling Enthusiast
Portsmouth, NH
6 of 6 customers found this review helpful.
Better grip on ice, rolls great.
I am new to fatbiking and I quickly learned that studs are necessary to ride during the winter in my area. Before having studs, I fell constantly. My tires would lose grip and slide like crazy on all the patches of ice. Getting the Dillinger 5s was a big improvement. The bike was able to stay upright better on the patches of ice and there was not any noticible difference in speed or performance. HOWEVER, I have still managed to make these tires slide out when I ride quickly into corners or other aggressive maneuvers. I have just learned that I cannot ride as aggressively as I typically do in the summer on my full-suspension mountain bike. I would still recommend the Dillinger 5s as they seem to be some of the best snowice tires available. But do not expect to gain unlimited grip.
Thank you for your feedback.