Sportful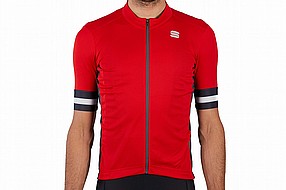 Cycling Enthusiast
Arkansas
1 of 1 customers found this review helpful.
Nice Jersey
This jersey runs a bit tight, I normally wear a medium (5'-11", 165lbs) I like my stuff tight and not hanging down like a FRED. However, this jersey is just on the edge of being too small for me. If you are a person who is between sizes like me (I can wear Medium or LARGE depending on the cut or company), I'd recommend going with the larger size. Otherwise, I like the cut, fabric, simple design and the zipper is really good, not to minimalistic like some jerseys that causes the zippers to wear out before the jersey does.
Thank you for your feedback.
1 of 1 customers found this review helpful.
Comfortable Jersey but stitching could be better
This is a comfortable jersey it moves well with the body and the temperature on the first ride wearing this jersey was 90F and I didn't need to unzip for ventilation.
The one flaw preventing five stars is the stitching between the upper and lower fabrics above the pockets. After the first ride I found the stitch had failed and opened a 1" long hole at the seam. I probably just got a bad one, would love a replacement but have been too busy to pursue.
Thank you for your feedback.
2 of 2 customers found this review helpful.
Great fitting Jersey
I do agree with the other review that the description on size is misleading. However I tried a small and and medium. I'm 145lbs with muscles and the fabric on the should and chest stretches comfortably. I ended up getting the small as the medium bunched up too much on when in cycling position. The Jersey is very comfortable and the side zipped pocket is excellent. The side material does a great job venting. Note that for their other jerseys you will need to size up one like the description says just not this one.
Thank you for your feedback.
4 of 4 customers found this review helpful.
Good shorts with poor straps
This is the second pair of Sportful bib shorts. My first was the Giara.
Firstly, the good. The shorts have good compression and the chamois is comfy for longer rides. I like the feel overall for shorter rides.
The things that I feel can be improved on are a deeper thigh pocket. It's fairly shallow, and struggles to keep my phone secure when vertically positioned. The big drawback for me are that the straps are like cheese graters for your nipples. They're very short as well. Bibs at this price have no excuse for cheap, overly thin and tight straps.
I'm a size large in every other brand I've owned, and learned quickly to ignore the sportful sizing and size up. Even in an XL, these straps feel like they're inches too short, with too little stretch making for a fairly uncomfortable fit on the shoulders and as previously mentioned, my poor nipples. I'm trying to figure out how to permanently stretch the straps out, but to no avail, yet.
If you have a shorter torso, I'd imagine this won't be a problem. I'm 6'4" 185lbs. I'm tall, but pretty damn thin. I'm figuring out that Sportful may just not be the best fit for me.
Thank you for your feedback.