Road Bike Components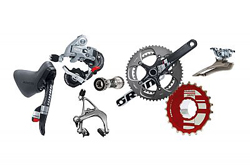 Group set, drivetrain, gruppo, whatever you call it: the mechanical component group that facilitates pedaling, shifting and breaking has a profound effect on your ride experience. Much is made of the differences between brands; component manufacturers would have you believe that Shimano and Campagnolo users are warring tribes (with SRAM users cast as the loose cannons), but the differences between component groups are really very slight. Though shifting mechanisms differ, the differences are akin to switching between a ballpoint pen with the press-down top and one you have to twist. While you might be used to one, you can figure out the other pretty quickly. And I've never seen an ace Campy mechanic who couldn't do a bang-up job with Shimano.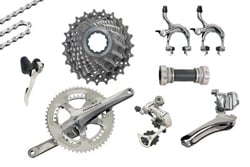 Here's a quick overview of the major players in the component world:
Shimano - We offer several road groupsets from this Japanese component manufacturer, beginning with entry-level 10-speed 105, as well as 10-speed Ultegra and high-end 11-speed Dura-Ace. Shimano pioneered 10-speed drivetrains and outboard bearing bottom brackets, and they were the first major player to introduce an electronic drivetrain, in 2009. We carry their electronic groupsets Ultegra Di2 (10-speed) and Dura-Ace Di2 (11-speed).
Campagnolo - The Italian-made choice of cycling purists and skilled mechanics. The history of Campagnolo and European pro racing is inseparable. Campagnolo is the only brand of components that can be completely rebuilt. The "Campy" range includes 10-speed Veloce and Centaur groupsets and 11-speed Athena, Chorus, Record, and super-high-end Super Record groupsets. In addition, they offer electronic shifting with Athena EPS, Record EPS, and Super Record EPS gruppos.
SRAM - SRAM offered their first groupset in 2006 and have been taking the market by storm ever since. Their range runs from entry-level 10-speed Apex through 10-speed Rival, 10-speed Force and 11-speed Force 22, and high-end 10-speed Red and 11-speed Red 22.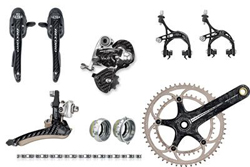 Like most bike parts, choosing a group set comes down to balancing how much you want to spend with the performance you expect. Generally, the mechanics within each brand are very similar: blueprints of 105 and Dura Ace components would look almost identical. The difference is in quality of materials, manufacturing precision, and weight. For instance, lower-end components are often manufactured from aluminum, while higher-end components include much more lightweight carbon fiber.
When comparing groups, it is best to do so within a brand. Each step of the Campy ladder has clear cut advantages over the group below it (and a price hike to match). The differences between Ultegra and Dura-Ace are easily discernible. On the other hand, it is difficult to compare Force, Ultegra, and Chorus, as all three hover in the same price range, have comparable weights, and work great. One is not necessarily better than the other; they're just different.
Compatability
Shimano and SRAM 10-speed enjoy a somewhat compatible component relationship. Cassettes share the same freehub body (except for Shimano 10-speed only freehub bodies, which have been discontinued), and chains and cranks are somewhat interchangeable, though the manufacturers don't really recommend it, especially with newer versions. It's also important that each brand's shifters be used with like derailleurs, as the actuation is different. Shimano's 11-speed groupsets are not compatible with SRAM's 11-speed systems, however, and vice versa.
Campagnolo is in its own world. Shifters, derailleurs, chains, and cassette are all Campy-specific.
Our Recommendations
At WesternBikeworks.com HQ, we ride bikes equipped with the full range of components. The racers lean heavily on Dura Ace, though their results might not be much different pushing Ultegra. Dura Ace is reliable, though, and you don't have that voice in the back of your head saying "you'd be faster if you just bought this," which is worth something.
Our super-mechanic rides Record. Campy components can be a bit tempermental, but he enjoys the maintenance, and he'll keep it forever, rebuild it, and take good care of it. The hard-core commuters among us run Chorus and Veloce groups, which retain Campy's classic looks and performance at a more manageable cost.
The true cycling connoisseur will appreciate the eye-blink fast shifting and butter smooth operation of Record, Dura Ace or Red groups. If you're a racer, and you can afford them, go for it. They are no-excuses group sets. Also, if you plan on reselling the bike at any point, a full top-of-the-line group will keep resale value high.
For the amateur racer or performance oriented recreational rider, a mix of mid and high end components will provide the most speed for your buck. Imagine a Force group with a Red crankset, bottom bracket, and cassette. That would give you great shifting, a ceramic bearing equipped BB, the lightest cassette on the market, several hundred dollars in savings over a full Red group. Heck, maybe even substitute some Rival derailleurs (since derailleurs take a beating on race bikes anyways) and save even more change. Of course, similar component switches can be done within any brand. These mix and match groups are quite common, even at the highest levels of racing, and are a great way ensure that the money you're spending on parts is really helping you ride faster.
On any drivetrain, maintenance is key to top performance. Manufacturers design their top of the line groups to be maintained by professional mechanics. There is no reason to spend thousands on a group set if it quickly becomes caked in road grime and left to sit in the garage. It's worth it to have a certified mechanic do the initial set up. Then, make sure you know how to handle your lubes. Most importantly, clean the chain a couple of times a week.
Please contact us at 1-800-651-4050 or [email protected] with any questions regarding component selection and maintenance.