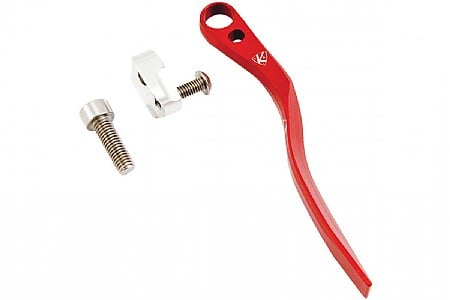 I have not had a dropped chain since installing it.
Cycling Enthusiast
Bend, OR
Simple, effective, frame protection.
Cycling Enthusiast
Portland, OR
Very little cost to protect your carbon bike that cost in the thousands. I have these on all of my bikes and the gravel bike is no exception, prior to first ride this was installed and prevents chain drop and damage to your frame, it is a must buy.
Thank you for your feedback.
Elegant solution
Cycling Enthusiast
El Paso, TX
Chainsuck sucks. Bought my COVID bike a couple of months ago and early on experienced a dropped chain, the one you get when slightly pedaling backwards a half turn while coasting to a stop. Raise your hand if it's never happened to you. I thought so. So you know how frustrating that is. Vowing to solve the problem, I researched chain catchers and found several cheaper solutions but the reviews on this one convinced me to give it a try. It is a quality made product that you won't be ashamed to put on your bike. It has a nice appearance and is easy to install. I like that you can adjust the distance from your small chainring. No more dropped chains. In the last week 3 friends have had rides interrupted by dropped chains. I recommended the K-Edge to all. At $30, a little expensive but I'm happy with it.
Thank you for your feedback.
No more dropped chains
Cycling Enthusiast
El Paso, TX
I had already installed one of these on my new road bike. Within two weeks, two friends experienced dropped chains, one got jammed between the crank and the frame which required removal of the crank to free it. I recommended this and ordered it for her. This fixed her problem and looks like a quality product which doesn't detract from the appearance of the bike.
Thank you for your feedback.
Great design and function!
Easy install
Cycling Enthusiast
Vancouver, Canada