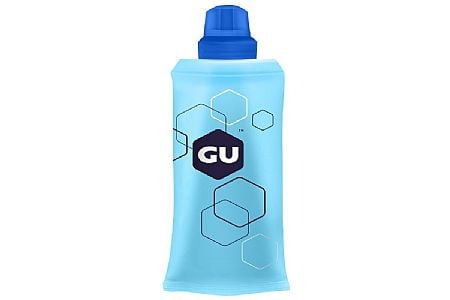 great concept, or so it first seems. But, alas, it appears impossible that ANYONE will figure out how to keep the fingers from getting sticky.
4 of 5 customers found this review helpful.
Other than the hard-to-loosen nozzle, the other serious downside is if you don't work thru the batch in your flask relatively fast, then the gel hardens in the flask corners and along the bottom edge. Short window to work through 5 packs' worth. So back to the individual eco-insensitive packs I go ,)
Thank you for your feedback.
love the cap,much better than the pull out cap.Wish it was able to use on my flasks
Cycling Enthusiast
montrose co
Okay but not great
2 of 2 customers found this review helpful.
I use this on long runs. I usually only put two GUs in it. Unless I thin it a bit with water I have a hard time getting it out. Even then, its still hard to squeeze all the air out from the bottom to get all the GU, while running. I also dont care for the hard plastic nozzle. I feel like Im going to break my teeth when running and jamming it in my mouth. I wanted to love it since there arent many alternatives, but I just dont. At least it wasnt very expensive.
Thank you for your feedback.
Best Flask in the Business
Cycling Enthusiast
Victorville, CA
This beats the GU flask in every imaginable way. First, it has a bigger mouth, so it's easier to load, 2nd, it's soft. Really, really soft, and pliable. Not only will it not leave you with a spinal injury if you take a fall, but you can twist & wring it to get ALL of the ride fuel out of it. It's also very easy to clean, in part because of the pliable (silicone?) flask material, but also because of it's pliability, and large mouth.
Best of all though is the valve can be twisted open & closed by holding it between your teeth while squeezing, so on timed events you don't have to stop to feed. With Powerbars no longer in production, a reusable system is more important than ever. This makes the gel system workable enough you won't mind leaving bars behind.
Thank you for your feedback.
Good size and texture cap can screw loose
1 of 2 customers found this review helpful.
A nice option to other flasks, well made and easy to squeeze everything out. Only complaint is the cap screws off to open valve, so you gotta pay attention. I have another with a bite valve that solves this issue, still a good product.
Thank you for your feedback.
Poor flow (using GU roctane) in cold conditions
0 of 1 customers found this review helpful.
Purchased for gravel riding (to minimize waste and optimize gel use) but nozzle flow required concentrated pressure which distracted from riding and did not provide adequate quantity. Flow was negligible when temps were 45 deg or lower using GU roctane.
Thank you for your feedback.
Love this product
Cycling Enthusiast
Half Moon Bay, CA
1 of 1 customers found this review helpful.
I love this dispenser, it is a little hard to clean out but it the best way to dispense your Gel. Buying the Gel by the larger container vs. the packets is really good way to save packaging, pay less for the gel and not cut your mouth on those metallic packets. Plus you can swallow a little or swallow alot and no messy packet to deal with later.
Thank you for your feedback.
Good not Great
Cycling Enthusiast
Dallas, TX
1 of 2 customers found this review helpful.
Have used several times on my training rides. I make my own GU. Issue for me is that it is not easy to use one-handed. Taking two hands presents some additional risks while cycling. Furthermore a few times the entire top rotated, vs just the spout. Thus I will continue to use on training rides but in other rides will likely continue to use the packets that I can open with my teeth.
Thank you for your feedback.
Invaluable Product
Cycling Enthusiast
Phoenix AZ