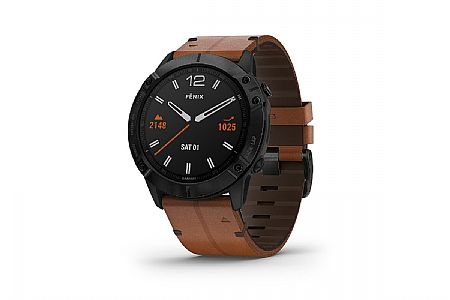 Nice upgrades from Fenix 5X (which I was also very happy with) Music, Battery Life, Blood O2, larger screen
Cycling Enthusiast
Cincinnati, OH
5 of 5 customers found this review helpful.
I've been very happy with this as an upgrade to my Fenix 5X. I was on the fence about spending the money on it I have been very happy with the 5x, but after owning the 6X for a few weeks am very happy I upgraded. The larger screen is very nice as is the longer battery life. I get 10 days between charges running the PulsOX all the time and could improve that substantially if I ran it at night only when I sleep. Being able to see my blood O2, and Respiration along with sleep on Garmin Connect is great as I have a very low resting heart rate and like to keep an eye on that while I sleep to make sure I'm not getting into trouble going too low on oxygen. It's not claimed as medical grade but its my early warning. I also have a race at altitude and this will help track my adaptation. There are little things which are nice too like Music which I listen to over bluetooth (could be very important to others). I didn't scratch up the 5x saphire much but the coating on the not screen part of this watch is supposed to be more robust and so far after 6 months it still looks brand new so it likely is as I do wear this all the time and have plenty of activities where it's exposed to harsh conditions. Like the 5X, this watch is large (although this is thinner I believe) so it takes a bit of getting used to compared to others. I never wore a watch prior to the 5X and quickly became comfortable with wearing it all day long, and the 6X is comfortable also, the band is nicer on the 6X in my opinion for ease of adjusting and looks to be more durable without sacrificing comfort. I have had Zero problems with it the entire time I've owned it. This is not an inexpensive watch but if you can afford it and like the features, I highly recommend it - this won't disappoint you. I have a hard time seeing Garmin being able to do much to improve this watch with a next generation so it should be something to happily own for years to come.
Thank you for your feedback.
A must have (IMHO)
3 of 3 customers found this review helpful.
As a satisfied user of the Fenix 5 for years i really didnt condider upgrading until recently. There are big fitness tracking advantages and it was worth the move. The slightly larger face size over the 5 is also a bonus. I prefer wearables even though i do have bike mounted Garmin devices as well. Its a must have in my view and well worth the money.
Thank you for your feedback.