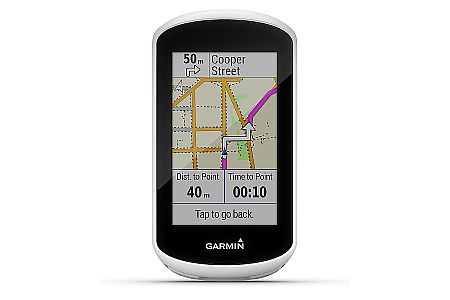 Great for commuting and exploring
Competitive Racer
Eagle, Idaho
Good vallue for the price
Don't Buy This for Navigation
BIG step up from my Edge 500
Cycling Enthusiast
Massachusetts, USA
30 of 30 customers found this review helpful.
I got this for long rides. I generally follow pre-planned courses, so I can't comment on how well it would navigate you back home or to some other destination.
Here's my experience, after several hundred miles worth of long rides.
The good Touch screen works fine, and is nicely visible in daylight without the backlight. Screens are nicely configurable - you only get two but that's enough for me. Works with my phone to allow my spouse to follow my progress, shows me text messages and provides some canned quick replies. Pairs up with my older ANT speed and heart sensor. Hasn't ever locked up or needed a re-start to keep it working. (Longest continuous ride so far was 7 hours.)
Battery life seems to be as advertised, 12 hours. After a 7 hour daylight ride last weekend with the Garmin on all the time it's battery meter showed 50%. (Also, the phone app doesn't use much power. I think I still had about 80% on that.) Leaving it on the map uses the battery faster, so I leave it on a data screen (with distance to next turn at the top). I can swipe left and see the cue sheet, or swipe right and see the map and again for upcoming elevation, but I usually just leave it on the data screen and when a turn approaches it switches to the map by itself. Nice.
I have the crash notification set to email only me for testing it, so that I don't scare my family with a false alarm. So far I haven't crashed, and it hasn't triggered, despite some pretty severe rattling over a wooden bridge and such. Maybe I'll put in my family's info now.
The annoying Every now and then it feels the need to warn you about an upcoming sharp turn. Maybe useful on a motorcycle, but totally not needed on a bike, IMO. You might disagree. One ride it got confused - maybe an issue with the course file? - and warned about sharp turns repeatedly on a straight stretch of road. That was really annoying!. But mostly it's been flawless, and only warned when there actually was a sort-of-sharp turn coming, like once in the last 100 mile ride. I wish I could turn off that type of warning, like I think you can do on the 1030. A volume control for the beeps would be nice too.
Overall, I like it a lot! I don't need or want training and power meter features. I still use my Edge 500 for recording my commutes, and it always worked well for following routes (with the phone as a backup), but the Edge Explore is so much better.
Thank you for your feedback.
Update - New firmware fixed sharp bend warnings
8 of 8 customers found this review helpful.
Update to my earlier review. Garmin's new firmware for the Edge Expore gives the option to turn off the sharp bend warnings. Yay! It is now pretty much perfect for me. Battery life is still excellent - yesterday's 60 mile ride I finished with 70% battery life remaining. No glitches, no freezes, no touchscreen issues. Awesome.
Thank you for your feedback.
Loving the Features of the Garmin Edge Explore
Cycling Enthusiast
Parker, CO
7 of 7 customers found this review helpful.
This is my first GPS computer, and I'm really happy with the Edge Eploe. At my age, i was not concerned with power meters or heart rate monitors. I just wanted a good display, touch screen, and strong battery life. I also didn't want to spend $400-600 to get it. The navigation on the built in maps is clear and easy to read. I'm fine-tuning the settings to track the rides, but not drain the battery too quickly. For longer rides, or bikepacking trips, i'll definitely have a cache battery for recharging the Explore. I was a little concerned that the Explore did not have a barometric pressure altimiter. Since most of the rides that I do, or anticipate doing are on documented, established routes (GDMBR), i anticipate the Explore altimiter will be more than adequate for my rides. Time will tell. My next task is to find a site or two to download maps from.
A friend of mine bought an Edge 520 Plus at the same time I got my Edge Explore. He's more of a techy than I am. He did one ride with it, and returned it for an Edge Explore. He said the Explore was far easier to navigate on, and much easier to use with the touch screen. He just completed a 5 day backpacking trip in the Texas hill country, and said that the Explore was 'a champ'. He also saved money on the exchange.
Thank you for your feedback.
Edge Explore. So far, so good
1 of 1 customers found this review helpful.
Overall I am pleased with the unit. It replaces an etrex 20. Works flawlessly with garmin connect. Easy to design courses and uses rides from other sources.
Lasts 7 hours or so. Screens can be modified and the mount is secure. I do recommend this unit Good value for the price.
Thank you for your feedback.
The BEST basic garmin
Cycling Enthusiast
Lincoln
Great. Exceeds expectations.
1 of 1 customers found this review helpful.
I was going back and forth between computers. DC rainmaker said this would be good for his dad. I figure his dad and I are same demographic. LOL
I was looking for turn by turn on maps and customizable data screens with lots of data points. This delivers.
Stupid easy to use cause I can use it.
Just wish Garmin auto assigned bikes to sensors as I switch between bikes.
Thank you for your feedback.
Get an edge 530
2 of 2 customers found this review helpful.
Pluses - big screen, touch, map searching & location saving. Other than that, price edge 530 (with 15% off). The 530 has all kinds off bells & whistles that smoke this computer if you want a small computer. Good though
Thank you for your feedback.
Excellent value with some compromises
Cycling Enthusiast
Houston, TX
10 of 11 customers found this review helpful.
You give up a few things to get mapping at this price point. No power meter, hill grades, or temperature. Only two screens with fields. At the moment, you cannot turn off sharp bend warnings (super annoying because I do a twice weekly training ride in a park with 4 warnings per lap for 19 laps), but Garmin says it will fix that. The maps, prior ride course creation from Garmin Connect, turn guidance, and touchscreen are all great. In fact, I liked it enough that I bought another one as a gift to my wife.
Thank you for your feedback.