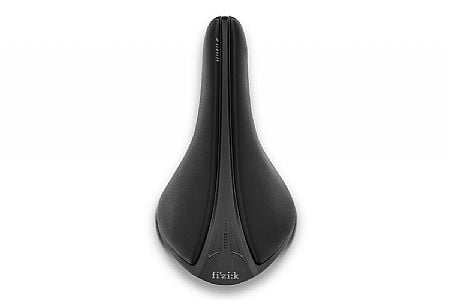 Comfortable Saddle for Long Rides
Cycling Enthusiast
Northern California
1 of 1 customers found this review helpful.
I have tried saddles with more padding, but this saddle just works, light, well made and comfortable. Highly recommend this saddle. I have almost 1000 miles on it now and it is showing no signs of wear.
Thank you for your feedback.
First one lasted 10,000 miles
This was a replacement for my Arione Classic on which I was suffering from lower back pain on longer rides. After Arione, I've tried other saddles but they did not fit me. With this saddle my back pain went away. Getting older and not as flexible (see Fizik website). I've ridden over 10,000 miles on it before it wore out and leather on the nose peeled off. It also started getting soft last couple thousand miles, Without thinking I've purchased same saddle. I'm a So Cal rider so my rides vary from very cool in winter to extreme hot weather in summer, including Haleakala climb on Maui. Never had an issue with saddle sores. Since I'm 6'1, with 34 waist and just north of 200 lb, I use large size.
Thank you for your feedback.
This saddle sucks!
Cycling Enthusiast
greenfield, ma
2 of 4 customers found this review helpful.
I was looking for a cut away saddle to relieve some pressure, but the ridges along the cut out are horribly stiff and unforgiving. I developed a saddle sore after two 25 mile rides, and am going to put my old saddle back on. It is really a bummer that one has to spend this much on a saddle only to find that it was a huge waste of money, and have no recourse. Sure wish I could return this one!!!
Thank you for your feedback.
Loved it until if failed...
2 of 2 customers found this review helpful.
Absolutely loved the saddle up until I noticed some extra flex. Under further review it had cracked underneath horizontally! Kinda scary thinking about some of the high speed descents I took on it (would have been safer in the supertuck position). This was after only about 6 months of normal use. Pretty frustrating on a number of fronts.
Thank you for your feedback.
Did not fit me well but great quality and lightweight
This is a well made, light, and high tech saddle. Unfortunately it did not fit me well. That being said, the saddle has a small sweet spot meaning if you stay put on the saddle this could work for you, if you like to move around on the saddle look elsewhere. The foam is dense, and the cover has enough friction to keep you put and it wont slipgrab excessively. I used the wide version, and the wing flex and rail flex definitely improved comfort. The channel was uncomfortable for me. The best angle was level. I give this 4 stars due to the quality of the saddle but it was not a good fit for me.
Thank you for your feedback.