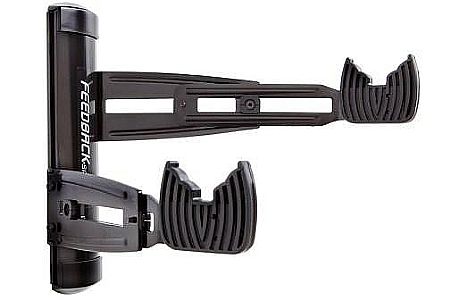 Best for the buck!
Cycling Enthusiast
Portland, OR
3 of 3 customers found this review helpful.
Forget all those $100 modern wall-mounted racks that just look pretty. The Feedback Velo Wall Rad 2D is built to last. Doesn't fell flimsy and I can trust it to hold my $9k to $12k bikes 8-feet off the ground. The soft rubber cradles are designed not to pinch external brake cabling which is AWESOME! Two thumbs up... way up!
Thank you for your feedback.
Perfect For Me
1 of 1 customers found this review helpful.
I hang my bike in my garage. So when I bought a new bike with a more kicked out style of handlebar my left brake lever was rubbing the wall. This rack is fully adjustable and much better suited to my new bike than the more generic style and non adjustable wall hanger I was using. Looks great too. Very nicely finished. I thought maybe this product was a little pricey but when I inboxed it I felt like it was well worth the price.
Thank you for your feedback.
Very effective rack, easy to install with outstanding adjustability features
Cycling Enthusiast
Northern Michigan
12 of 12 customers found this review helpful.
Two screws hold this rack to the wall, easy installation. Really like the independent updown arm adjustability that enables use by bikes with varying top tube angles. Also nice is the outward extending arms that allow the bike to be located very close to the mounting wall. One recommendation that I believe to be critical is to be sure to mount the rack into wall studs, the rack needs to be very solidly secured. When driving the provided screws into the wall studs with a power drill, be sure to drill pilot holes to allow the screws to fully seat and hold the rack against the wall. I would like to see the provided screws to be made of a more hardened steel. When tightening these screws there is a tendency to ream out the Phillips head screws. I would consider buying stainless steel, hardened screws to replace those provided with the rack.
Thank you for your feedback.
Solid rack but watch out for small allen bolts stripping
3 of 3 customers found this review helpful.
I have purchased two of these for bike storage in my garage.
The instructions suggest using a 18th of an inch drill bit for pre-drilling. I used a larger drill bit.
The included bolts for fastening the back plate to the wall have phillips heads. This is a terrible choice for something that gets bolted on to a stud. A regular bolt or torx head would have been much much better.
The arms are easy to attach but the allen head screws are of inferior quality. I stripped one out of eight screws.
Luckily the arm is firmly attached at this point.
Finally, if feedback sports included a rubber strap over the each arm where it touches the frame to make sure that the bike accidentally does not fall down, it would have been nice. I used a bungee cord since the last thing I want is for a bike to fall on my car.
Thank you for your feedback.
Compact and adjustable wall rack
Cycling Enthusiast
Scottsdale, AZ
Terrific wall mount bike storage.
Casual Cyclist
Long Beach, CA
Very good, but not perfect, for road bike
Cycling Enthusiast
Los Angeles, CA
1 of 2 customers found this review helpful.
My goal was to hang my road bike (i) level and (ii) as close as possible to the wall as I have to squeeze past it in the garage to get to other bikes. The Velo 2D does the first well - it can cope with a lot more slope than I have on my top tube. With the arms as short as possible, the front end (handlebars) is close to the wall, but the back end could go several inches closer, so it did much better than my old wall rack but not as well as I hoped. With the arms at minimum length, they are rather close together on the top tube, but that does not seem to be a problem. Overall, I rate it very good and I would buy again, but it falls short of perfect.
Thank you for your feedback.
Easy Install and What a Rack
Great wall rack easy to install and adjust.
Cycling Enthusiast
Palm Desert, Ca.
I installed my wall racks in a spare room. I stacked the racks for two bikes one on top of the other. When it came
time to move one them because extra guest were staying in room I just had to remove bike and extension arms. Took very little time to remove and put back a hold lot better than my old one piece rack. Would highly
recommend.
Thank you for your feedback.
Easy to install, strong and steady. very functional.
Cycling Enthusiast
Las Vegas
Bought a second one
Cycling Enthusiast
Los Angeles, CA
1 of 1 customers found this review helpful.
In my original review, I said I would buy it again and I just bought a second one for another bike. I have not found a better wall rack, nor another one that can handle varying top tube geometries.
Thank you for your feedback.