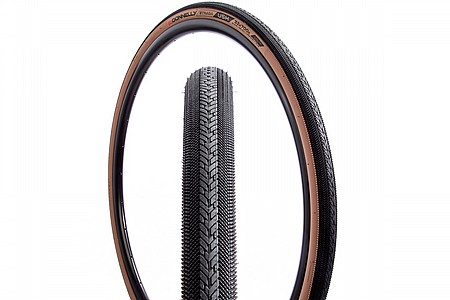 Great tire for a gravel bike that also sees paved surfaces
Cycling Enthusiast
Rio Rancho, NM
I have used Donnelly Tires on my road bike (an endurance bike using size 32s) for about two years and have loved the versatility the tire offers for both road riding and even hard packed surfaces. When it came time to replace the tires on my gravel bike I switched to Donnelly (using size 40) and could not be happier. I typically ride my bike from my home to the dirt trails so I appreciate the smooth surface offered but also appreciate the ruggedness of the tire and tread for gravel riding.
Thank you for your feedback.
So far so good
Cycling Enthusiast
N.E. Pennsylvania
1 of 1 customers found this review helpful.
Got these in a 700 -32. I was looking for a tire for my new gravel bike that would be close to a road tire but still be good on hard packed dirt or gravel. They are faster on pavement than I expected but still provide good traction on loose dirt and gravel This tire seems to suite the bill very well. Only problem is that they seem hard to find for purchase now. I'd like to get a spare pair.
Thank you for your feedback.