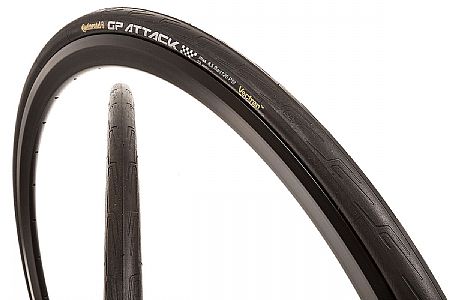 Mediocre Tire
2 of 2 customers found this review helpful.
These are the tires that came on my Canyon SpeedMax. I only bought this because I ran over a possum carcass and the bones scraped part of the tire down to the casing. Freakin weak sauce. I buy a new one and after a handful of rides I have wear down to the casing again and I didn't run over marsupial carcass. I didn't run over anything. Lame Sauce! Do yourself a favor and buy some Conti GP 4K or 5k.
Thank you for your feedback.
Fast and great at gripping road
Cycling Enthusiast
Columbus, OH
In combination with a Conti Force on the rear wheel, this tire is one of the best that I have ever tried. I have ridden it for over 500 miles on Zipp 404, didn't have a flat (yet), and from the wear, it looks like one should expect 3000 to 3500 miles. This tire must have low rolling resistance because I have posted very good times in 5 triathlon races. Highly recommended.
Thank you for your feedback.