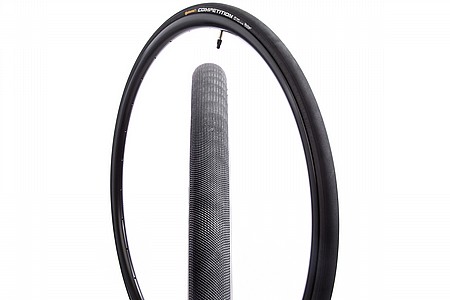 Quality tubular
Competitive Racer
Ontario, Canada
4 of 4 customers found this review helpful.
Doesn't feel like the fastest tubular I have ridden, corners with confidence. Seems durable. As a tubular for Ironman triathlon it is a good choice as it holds air and is more puncture resistant than most tubulars in the same price bracket
Thank you for your feedback.
Quality tubular
Competitive Racer
Niagara Falls, Canada
4 of 4 customers found this review helpful.
I have tried a variety of tubulars. The Continental Competition has a similar road feel to any of the higher end tubulars. I have not had any flats and it does hold air overnight. I have these on Easton EC90TT wheels and the fit and shape is good.
Thank you for your feedback.
The closet thing to a perfect all around and Triathlon racing tire!
Competitive Racer
Middlebury Vermont
5 of 6 customers found this review helpful.
I like to find a tire that is top quality to train and race on. I read a bunch of good reviews on the Conti Comp Black Chilli so I tried them and I love them! As I get older (55) my long rides are as important to me as the racing I still do. These tires are just great for both. I use sealant in them and put them on with glue tape. They are plenty light and very durable. I purchased something like a dozen of these tires and each has had the same consistent quality.
Thank you for your feedback.
Awesome!
Cycling Enthusiast
Los Angeles
3 of 6 customers found this review helpful.
These things grip like a mofo! But they cut and pop so easy.. Run over a piece of glass and its over.. Forget tufo sealant! Use Stan's Sealant, shoot a shot of it in your tube before you ride and you're protected!
Thank you for your feedback.
Awesome Tires
Cycling Enthusiast
Melbourne, FL
2 of 2 customers found this review helpful.
These tires get 50 to 100 miles a week on them. They seem to be extremely puncture and cut resistant. The do, however, seem to be subject to shock (chuck holes or road protrusions) caused flats. I seems that it is important to keep them fully inflated to avoid this type of flat.
Thank you for your feedback.
Excellent Tires - tried most all ... no other tubular can top these
Cycling Enthusiast
Conneticut
10 of 10 customers found this review helpful.
I've been using these basic tires since 1996 since I first installed them on my Spinergy Rev X rims. Back then they were great but today they continue to improve with the black chili rubber compound. The Spenergy's have long retired but the these tires have kept up with the carbon bikes and improved carbon rims. I have tried many other tires. The Conti's are great all around tires rarely flat and last 2000 miles. The tread wears fast but you can ride them long past the pattern disappearing. In fact I still have an original competition gum-wall tire as a back-up. Sometimes I carry a spare but with the new Vectran I no longer carry a spare. I do carry some Tufo sealant just in case but have not used it (yet).
Thank you for your feedback.
the one I ended up with
Cycling Enthusiast
Florida
Great Race Tire But Everyday Use Will Require Frequent Replacement
Competitive Racer
Dallas, TX
6 of 6 customers found this review helpful.
I love this tire from a racing standpoint. It's light, responsive, grips extremely well. You could not ask for more... from a racing standpoint. However, when it comes to daily use, the tires do wear fairly quickly. I weigh 158 pounds and ran the 700x22 version of this tire. After 30 days and 1202 miles (1095 miles of training and 107 miles of racing), the tread on the rear tire was worn smooth. To be fair, the front tire looks good and still has solid tread. I had intended to run the read tire longer as I still felt it was safe to use but had a glass puncture on it (Tufo extreme sealed it up nicely though) and changed it at that point. I do really like this tire and don't think anyone should expect much more than 1200 miles from a true racing tire but I think with luck, I could have had another 500 miles on this tire before needing to replace it. I'm now running Conti 4000SRs and will let you know how those fair. I like the idea that they have no center tread as I think a solid pattern will wear better.
In sum, this is a racing tire and performs extremely well as such but don't expect it to last like a dedicated training tire.
Thank you for your feedback.
Favorite all round tubular ever
33 of 34 customers found this review helpful.
These tires are staight up amazing! I used a single set all season on my racing wheels for both road and triathlon. I ride in all conditions and run a 19mm front and 22mm rear. I have close to 1000 miles on these tires and they are in perfect shape.
I just got back from 3 weeks on the big island of hawaii and was amazed at the amount of glass I encountered training on the island. Running through glass patch after glass patch I kept saying that ok now I am going to flat my luck has to run out. Not even close, these tires do not have a single cut in the tread.
Feel great and they last, well worth the money. I have ridden tufos and vittoria in the past and these are by far the most durable and most responsive tires in my humble opinion.
Thank you for your feedback.
Continental Competition Tubular Tire -- one serious tire for its' weight!
Cycling Enthusiast
Ohio Valley
64 of 67 customers found this review helpful.
Here is an honest, clear-cut evaluation of this tire
This is, in my humble opinion, the best all-around tire in its' weight and classification. I am specifically referring to the Competition tubular 19. The reality of quality can only come about by spending a lot of time and money on tubulars of all types, which I have. Thus, if you are seeking the lightest, but best sprinttime trial tire I suggest the Tufo Elite Jet tubular, weighing in at a mere 160 grams or less-- it may last you just over 150 miles, and you will have to spend at least $149.00 max,each. It pumps up to 220psi, and you will find non other so fast and nimble as this tire. Next, at a slightly lower price, you can find the Vittoria EVO CS 20mm tubular, at a mere 170 grams 180psi to be your next best bet for speed, but around the same 100 to 150 miles of life. But for your normal-fast or moderate club rides, I highly recommend the highly- acclaimed Conti competition 19, at a mere 225 grams, and a 170 psi capacity I find this "speedy bombshell" to be the BEST all-around pro tubular tire available on the market today. I usually get around 4,000 miles on the front, and 2,000 miles in the rear, and live and ride in Ohio. If you ride in the West andor confront hills at every corner, then by all means expect less mileage out of them.
I hope this review helped place my maximum emphasis on this top quality Continental Competition 19 or 22mmtubular tire. It is truly the best tubular tire for the serious pro, or weekend warrior. It is also hand-made in Germany in small batches for max quality control! And, boasts the most pure, propriatary-rubber compound on the market today! Trust me, pump one up today, and go for a ride -- you'll thank me later... Cheers!
Thank you for your feedback.