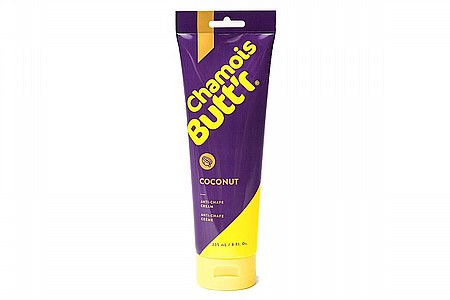 Lot's of trainer time for me and this is critical to prevent chafing.
Cycling Enthusiast
loganville, ga
OK!
I can't really tell the difference between this and the original-women's formula other than it smells coconutty. The cooling is light. I think the thing that bugs me about this product is the applicator. The tube is big and it's hard to get the cream out of that tiny lil nozzle. Taking the lid off doesn't help, the nozzle is the same size underneath. I don't want it in a tub... just a wider nozzle.
Thank you for your feedback.
Like that it's a little thicker
Cycling Enthusiast
Loganville Ga
PaceLine Chamois ButtR performs well!
Competitive Racer
Seattle, WA
I just works
I use on the longer rides (>50mi). It just works. Some bibs/shorts and chamois are better than others. I target the areas that are prone to chafing and it just simply works - no sores (except for the months I averaged 300+ miles/week - it wasn't quite adequate for that).
I used the regular Chamois Butt'r for years and just finished my first 8oz tube of the coconut version. My skin at the sit bones seems to be in a bit better condition with this version.
Thank you for your feedback.
This product increases saddle comfort for long or intense rides
Cycling Enthusiast
Plattsburgh NY
I spent a lot of time in the saddle day after day during the 2020 riding season with most rides over 40 miles. I had become even more intense with my riding during the month of September for a challenge. Needless to say, parts of my body were getting tender. A friend gave me a couple single packs of this. I felt so much more comfortable that I now buy it by the tube. I find it provides more comfort for me not only on my longer rides, but when I'm doing shorter intense rides. I'm hooked on this now!
Thank you for your feedback.
Great enhancement for riding comfort
Cycling Enthusiast
Plattsburgh NY
Added riding comfort
Cycling Enthusiast
Plattsburgh NY
After a friend of mine gave me some of this product last year while I was riding daily for a challenge, I won't ever be without it. It makes even the best chamois feel so much more comfortable for those extended rides.
Thank you for your feedback.
Good value cream
Competitive Racer
Maryland
This is the first time I've used the Chamois Buttr brand and am impressed by how well the product holds up on long rides. The cream is more viscous than other brands, and has a faint scent that doesn't strike any big flavor notes. Basically, I apply and forget it's there. The price for an 8oz tube is also pretty good compared to other brands.
Thank you for your feedback.
Why didn't I use this earlier?
Cycling Enthusiast
Metro Detroit