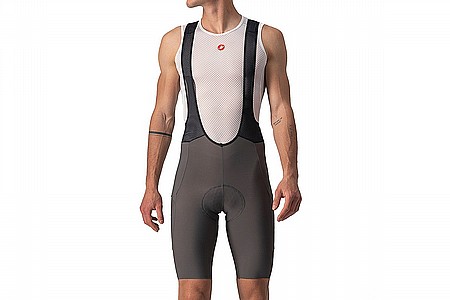 Comfortable plus pockets
Competitive Racer
Colorado
5 STAR !!
North San Diego County, Ca.
5 of 5 customers found this review helpful.
If you're a Castelli "fit", these may be for you. These seem to have the thigh Compression similar to Castelli Aero bibs + the Seat Pad Comfort of Castelli Endurance bibs = my new 'Go- To' bibs. Just finished a 100 mi. / low 80�s ride. Thought these maybe be warm with the double layer pockets. Non-issue for me.
I've had good luck with Castelli's overall quality, fit & finish on any of their bibs, and expect these to be the same. They just seem to last (with proper care of course)
I look forward to stocking-up on a couple of more pair.
( 5' 9" 129lbs. Medium size ; 160+ miles a week)
Thank you for your feedback.
Great endurance bibs - Castelli quality at a great value.
Cycling Enthusiast
SF Bay Area
7 of 7 customers found this review helpful.
At the regular price, these are a great value comparable to many quality brand's entry level bibs.
The double layer of these bib shorts appealed to me. I purchased these immediately after a telephone cable knocked loose from a pole by a truck clothes-lined me and caused a crash. Fortunately, my injuries were minor (a raw scar on the neck and a sore throat, as well as a scratch on my hip) but I did get a hole in the bib shorts - something I'm hoping will not occur with this short. Having the options of pockets are nice as well - great for fuel or phone - although with my history, I would put the phone in a jersey pocket rather than where I tend to land in a crash...
As for fitment, I am 6'-0", 32" waist, and 180 lbs. My body shape is weird - I have a long torso and used to be 60 lbs heavier, making my rib cage large for my body. I fit a large in this bib short, and would judge them to be just a little smaller than a medium in brands that fit true to size. I do like the extra compression of the slightly tighter fit, the double layer of material will give you a compression feel as well. Compared to the Entrata entry level bib short, I feel that they are built just a little larger. The straps over my longer torso are fitted, but not uncomfortable. That being said, I believe an XL would probably fit as well if wanted a more relaxed fit.
As for the other features. The chamois is the Kiss Air 2, Castelli's entry level chamois - but is still the nicest one I have in my closet. I have ridden a combination of on and off road rides of ~40 miles with little discomfort. I can only imagine what the nicer chamois' are like... The leg grippers are vertical silicone strips on an un-stitched cuff - incredibly comfortable and grippy. Along with the two side pockets, there are two mesh pockets at the lower back area, allowing you to wear a T-shirt or MTB jersey and still carry your stuff.
Finally, I like the relatively little branding... especially for a Castelli garment A single logo on you left thigh and the word "Unlimited" stamped above your butt - easily covered by a jersey or shirt.
Thank you for your feedback.
2nd Pair of these
2 of 2 customers found this review helpful.
First pair ordered last year have held up incredibly for multiple hour rides. The pockets are bar-none the best, keeping your do-dads close and secure. The graphic on the back is starting to peel but the chamois longevity is all I care about and 10+ hours later it's still plump, not Castelli's best but it's sufficient. This second pair I recently ordered had a label that was caught in the stitching but I cut those out anyway. It also had a slight defect in the right leg where the seam didn't carry all the way down the leg so the panels have a slight split at the opening. Stitching is secure so I don't see it being a problem - just seems quality control is dropping and I may have to find another go-to bib. 6'3" 180lb 33" waist the medium is solid
Thank you for your feedback.
The Best Pair of Bibs I've Owned
Cycling Enthusiast
Missouri
1 of 1 customers found this review helpful.
I wore to see-through a pair of really popular discount endurance bibs in less than a year of doing long rides. Decided I was going to buy the best value of bibs I could find in the $80-$120 range and see if there was a difference. There was a huge difference. These are now my go-to endurance bibs of choice. They just feel great. They're slightly longer than I normally wear, but they fit tight to my legs. The pockets are really useful if I want to not wear a regular jersay and just wear a t-shirt or a flannel.
If you are thinking about buying a pair of these and can find them on any kind of discount, I would recommend it!
Thank you for your feedback.
Purchased for gravel, but perfect for the road, too.
Cycling Enthusiast
Kansas City
4 of 4 customers found this review helpful.
The KISS Air2 pad is my new favorite, and the biggest reason for my immediate purchase of a second pair. The cargo pockets can easily handle your smart phone or cycling wallet, and there are certain rides when that is a must.
At 6ft, 200lbs, I bought XXL, and am happy with the fit. For comparison, I wear XL in Le Col, and L in Rapha.
The logo is more subtle than on my earlier Castelli bibs.
Thank you for your feedback.
Go-to Gravel Bibs
1 of 1 customers found this review helpful.
These are the right length, weight, and fit for a big day in the saddle - I have the olive green bibs and they surprisingly go well with a lot of the kit I already have (or no ones nice enough to tell me the truth). Castelli sizing as usual - I'm 6'5 200 lbs and the XL bibs fit perfectly for me in summer shape.
Thank you for your feedback.
They cover your privates
1 of 1 customers found this review helpful.
Nice bibs. Good leg grippers. Don't provide a ton of compression but are comfy on long rides. The cargo pockets and back pockets near the bib straps are handy when you don't want to wear a pack and/or want a more casual top.
Thank you for your feedback.
Excellent all around BIB at a great price.
Cycling Enthusiast
Caguas, PR
3 of 3 customers found this review helpful.
Great fit and very comfortable for long (3 plus hours rides). The side pockets are very convenient. These provide better and easier access to nutrition particularly when you're hammering those pedals.
Thank you for your feedback.