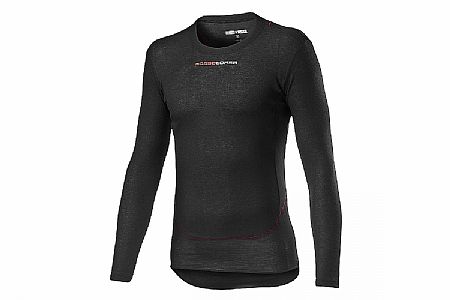 Versatile base layer
I live in area that is typical in the low 40s in the winter and 50s in the spring. The base layer keeps me very comfortable when paired with cycling jacket in winter and long sleeve jersey in spring. Fabric is soft and dries quickly. I have one that has held up well for over a year (wash in delicate cycle, then air dry overnight). Sizing is accurate and fits snug while allowing good freedom of movement. I would recommend this base layer over Castelli Flanders product which was too loose fitting.
Thank you for your feedback.
The ideal mid weight base layer
Cycling Enthusiast
Mt. Kisco, NY
This is my second Castelli base layer. I also own the Flanders which is exceptional. The Prosecco is perfect for those very cool but not bitter cold days. I will wear a synthetic t-shirt base layer underneath and that combination along with the Castelli Alpha RoS Light is just a killer combination. I've done rides in the mid 40s and have been warm but not hot. These products all work incredibly well together. The Prosecco material is quite fine so I wash and then dry on a hanger which prolongs its life versus putting it in the dryer.
Thank you for your feedback.
Very Nice wide Temp range
Cycling Enthusiast
4000'' elevation
1 of 1 customers found this review helpful.
I am not sure this will be helpful as I see it is out of stock now but......Perhaps will be restocked?
In any case a very fine lightweight LS base layer. I find it has a wide temp range & use it from 45-75 degrees no problems.
It is nicely fit & does no bunch up anywhere. When cold it feels good & nicely warm yet when it heats up it feels nicely cool lifting sweat away from skin
Overall very nice & wide range of temp usage
I am a 37" chest 146lbs 5'8" & the Medium fits nicely. I may have been ok with the Small too but med is fine
Thank you for your feedback.
I expected it to me much heavier but not a bad first layer on cold days.
Cycling Enthusiast
Northern Minnesota
1 of 1 customers found this review helpful.
I expected it to be a much heavier base layer - it is really very thin and light. It works as a light weight first layer, but it would be more useful if it was a bit heavier. Typical Castelli quality - well made and durable. Kind of pricey for what it is though. I ordered a size large and it fir me perfectly - you never know about the sizing of Castelli products as their size various considerably from product to product.
Thank you for your feedback.