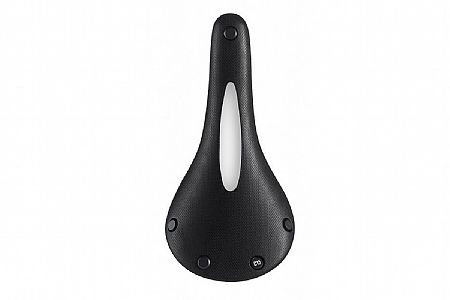 Instant comfort
Had wanted to try a Brooks saddle for years. I ride in all weather so went with the Italian-made cambium. The first ride (mixed trail and road) proved the Brooks to be not only comfortable but also inspiring confidence and a feeling of connection to the bike. It provides flex without cushiness. I really appreciate that.
Thank you for your feedback.
Works so well, I bought two
Great seat, if its the right fit.
Cycling Enthusiast
Toronto
Quality and build are excellent. Very happy with it. Fits me perfectly. Don't get particularly sore even when not wearing bike shorts. Friends have tried it and genuinely hate it, so make sure its the right size/cut/shape for you.
Thank you for your feedback.
Comfot Durability
Cycling Enthusiast
Portland, OR
Added one of these to my MTB, and it has been a game changer. Super durable, comfortable on rides of all lengths, and dramatic pressure relief in perineal area - particularly welcome on hard hits and unexpected drops. I've used leather Brooks saddles for years, but this one might be my favorite.
Thank you for your feedback.
Great commuter saddle
1 of 1 customers found this review helpful.
Great for under 20 miles, but a far cry from a Brooks LEATHER saddle (which I can't/won't leave out in rain). Saddle seems super durable and flexible without any significant pressure points. Again, very comfortable on short rides, but on longer or hot weather rides, it can start to feel like the wood and rubber coating it is made of.
Thank you for your feedback.
Different than any saddle I've tried...
Cycling Enthusiast
Lebanon, OR
1 of 1 customers found this review helpful.
Saddles are a very personal thing and obviously will vary greatly from person to person. This is a very flexible saddle, seems to be designed as more of a hammock than a saddle. When you sit on it, it conforms to your sit-bones area and sags deeply in the center. I had to raise my seatpost up 1/2 to 5/8 to match where my Selle Italia saddle was. My first ride felt like a standard saddle that was about 2/3 broke in, but then it never got any better... the sag makes it difficult (painful) to sit up and ride when I get tired and need a break. I'm 5' 9 and 177 lbs and ride Trek Madone 5.9 230 milesweek. I've got over 2,500 miles on this saddle so far. I probably won't buy another one.
Thank you for your feedback.
New favorite saddle
Picked up the Brooks C15 to replace the now craptastic saddle on my mountain bike. What a difference. Out of the box comfort, no saddle rail creaks, comfortable and just the right width, and seems far more durable as well. Plus the extended warranty is a bonus for me. I plan to put some longer miles on this and decide if the C15 will start replacing the rest of the saddles in my fleet.
Thank you for your feedback.
Great rugged saddle! I have a Brooks on every one of my bikes, the most comfortable I've found.
2 of 2 customers found this review helpful.
I do a lot of long distance rides and this saddle is made for comfort. i even have one on the bike I use on my indoor trainer! It is made of very tough but comfortable material.
Thank you for your feedback.
Great for long hours in the saddle.