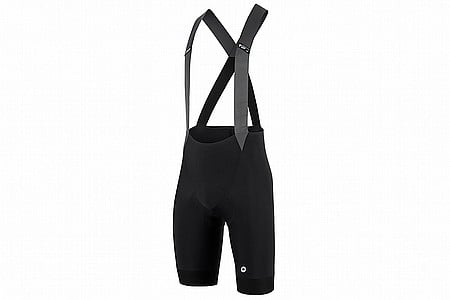 Typical Assos quality
Cycling Enthusiast
San Diego,CA
Top Drawer
Cycling Enthusiast
Midwest
Assos Bibs are so comfortable and well made.
Competitive Racer
North Dakota
Super Comfortable and Well Made
Cycling Enthusiast
Sunnyvale, CA
2 of 2 customers found this review helpful.
A friend recommended ASSOS so I tried out two Jerseys and the Mille GT Bibshorts. These are now my favorite shorts (and jerseys) as they fit incredible well, look great, and just feel good wearing on any ride. ASSOS is my new favorite label. ASSOS is EXPENSIVE relative to other brands so I will typically look for discounts to justify the purchase. Their designers know how to create excellent product.
Thank you for your feedback.
Not Anymore Comfortable Than Cheaper Bibshorts I Have
Cycling Enthusiast
Georgia
My first set of off-brand no-namer bibshorts from the online retailer that starts with an A are more comfortable than these. I don't get it. These are supposed to be some of the best bibshorts with the best padding and I can't get through a 20 mile ride without discomfort whereas with ANY other bibshort I have ranging in price from generic to at least 150 bucks, I can go 40-60 miles before I really start feeling it. It's almost as if the padding doesn't come forward enough and it is not dense enough for my 200 lbs weight. I tried a few times in the ride to adjust, but no joy. Tried my other bike with a totally different seat, no joy. Wish I could return these.
Thank you for your feedback.
Top quality at a good price
These are great bibs. I wore specialized SL bibs for many years before I decided to try these, and I wish I hadn�t waited that long. I�ve been using three pair for three months and they could pass for new after many wearings and washings. And most importantly, they are very very comfortable!
Thank you for your feedback.
As Premium as the Price Suggests
1 of 1 customers found this review helpful.
I�ve always heard Assos are the best and I didn�t believe it until I got a pair. Super premium and I�d love to have 1-3 pair in my rotation but are they really that much better than the other big brands? Probably up to the user but I can definitively say these are the nicest bibs I own. Points of comparison: Le Col Pro Bibs, PI Pro bibs and a club kit with an Elastic Interface chamois.
Thank you for your feedback.
Bit better than the previous Mille bibs
Competitive Racer
Silver Spring, MD
5 of 5 customers found this review helpful.
Though $30 more than previous years Mille bibs, these are definitely better built. The X-Frame straps are cooler on warm rides, the chamois is a tad wider which helped me, the leg grippers are much better than the old school silicone bands, and lastly the junk cradle is a bit better. I have done several 4-6hr rides in these and really just forgot about them where in the past I would have to readjust the chamois to get the seams off my sit bone. I use these for endurance MTB and I have used Pearl Izumi, Giordana, Jakroo, Bioracer bibs as a comparison.
Thank you for your feedback.
Made with quality and comfort
Well made but fit issues for me
These are typical of high quality Assos products; well made and seems like they will last for quite a while. I bought these as a marginally lower cost option to compliment a pair of GTS summer bibs (which are fantastic by the way), as they seemed to be quite similar in construction and fit. I tried them on when they arrived and all seemed well. However once I rode in them the first time, I felt as I had made a huge mistake. My issue is with the leg grippers/bottom of the shorts, which for some reason start to rub on the backs of both knees after about 30 mins of riding. I�ve tried adjusting where the shorts sit by pulling up higher or shifting myself around but nothing I�ve done resolves the problem. I�ve washed many times at the suggestion of customer support and that has not helped either. I�ve resolved to only wearing for shorter rides or just accepting that they�re going to annoy the crap out of me if I do ride much more than an hour.
This is a very specific issue, so take it with a grain of salt. You may fare better, but honestly I�d just go with the GTS bibs if considering both.
Thank you for your feedback.
Different but still good
1 of 1 customers found this review helpful.
Some changes to the straps I was not sure of. After a few rides, don't notice a difference between these a few older pairs of S5 Mille. They make great stuff and the best sign is you don't think about the bibs when you are riding, you just ride. Would buy again, and these guys get things out quick and keep you informed.
Thank you for your feedback.
What I expected!
Competitive Racer
Lake Tahoe
3 of 3 customers found this review helpful.
From day one I have never thought about them. Zero hot spots. I'm riding 6 days a week on a trainer or outside. Max trainer sessions of 4 hours. I do use shammy cream. Can't speak for the other models but these took a few weeks for my tummy to get used to. There was a little chaffing from the upper seam across the waistline. All good now though! Bought size medium. 5' 10'" 160#
Thank you for your feedback.