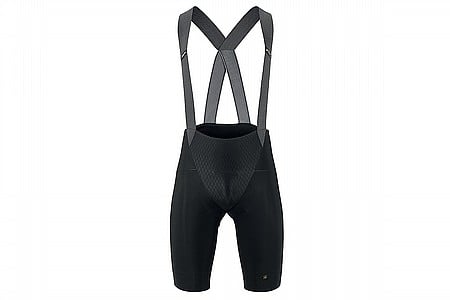 Super comfy for all day ride
San Antonio Texas Hill Country
I'm a 57 yr old enthusiast and ride about 160 miles a week average including 60 mile Texas hill country weekend rides. The thick chamois is super comfy. Assos standard cut is a bit short, so opted for the longer leg for extra coverage in the hard TX sun. Well-ventilated and slightly compressive. Great pricing from Western made this a no brainer!
Thank you for your feedback.
Exceptional high-end bib short
Cycling Enthusiast
Brenham, TX
1 of 1 customers found this review helpful.
I purchased the long version and it ends just above the knee. I like the longer length. The compression is very good. The chamois is indeed thicker, 'plusher' as Assos says. You definitely notice it when you put it on. I had my doubts it might be too much, but after a 60+ mile ride through the hill country it did its thing, i.e. disappeared and no trouble during or after the ride. Simply a quality piece of gear, and the gold accent is nice. 5' 9" 172 lbs, age 60+ and medium fits well. I went ahead and ordered the Equipe RSR S9 Targa as well.
Thank you for your feedback.
Best bibs I've owned
Cycling Enthusiast
Delray Beach, Florida
Finally, Assos has come out with a bib short for a tall, thin guy, like me. I had gotten the impression that Swiss riders must all be short stocky guys with large quads, based on previous Assos bibs I've tried. I was anxious to try these as soon as I saw they were being offered in a long length, but I've been disappointed with expensive shorts before, so I did not want to lay out the $xxx list price for these. Even though the WesternBike sale price I got them for was still up there ($xxx.xx), if they hold up, it will have been worth it. These shorts certainly have the thickest pad I have had on any shorts, but I guess the designers did substantial testing before incoporating it in these bibs. I have had no issues with chafing, and find the extra padding very comfortable. I am 6'2" 170lbs, 34" waist. Either a large or med fits, but I prefer the compression of the medium, and previous Assos large have gotten looser with use, especially around the leg opening. The straps are a little tighter in the medium when I stand up, but not terribly so, and not noticeable in riding position.
Thank you for your feedback.
Assos never disappoints
Cycling Enthusiast
SW Florida
The Best Bike Shorts!
1 of 1 customers found this review helpful.
The first time I wore these bike shorts was on a 12 hour spin for charity. I took a 10 minute break every 3 hours and these shorts were perfect! I even forgot to use any anti-chafe cream and had zero chafing. I'm ordering a couple more pair for RAAM!
Thank you for your feedback.
Awesome bib shorts
2 of 3 customers found this review helpful.
I'm 170# and 5'9" the medium size was perfect. After 2 rides at 100+ miles I'm very pleased. Nice compression and no saddle problems or pain. The best of my now 4 Assos cycling shorts.
Thank you for your feedback.
Worth the cost
1 of 2 customers found this review helpful.
These are very comfortable. Easily the best bibs I have ever owned. I wish I had these when I completed my cross country trip a few years ago. Yes, they are quite expensive, but hold out for a sale and save a few bucks.
Thank you for your feedback.