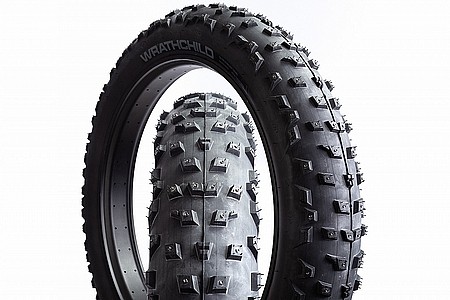 Look no further. These are the studded fat bike tires you want if you're looking for aggressive studs and knobs!
Cycling Enthusiast
Nashua, NH
8 of 8 customers found this review helpful.
Coming from Dillinger 5 studded tires, I was looking for a more aggressive, studded fat bike tire that was also tubeless ready. While I liked my Dillinger 5 studded tires, they just didn't handle well in the deep snow and I didn't like how the handled on turns. The fact that the Wrathchilds have studs on the outermost knobs as well really gives them a confident bite on turns. Riding here in the Northeast has been on glare ice ribbons for the better part of the past couple of months. Having these tires has given me the confidence to continue riding regardless of the conditions. I did get one good ride in with deeper snow and where the Dillinger 5's would have failed me, the Wrathchilds were up to the task. I can confidently tell you that these tires are the favorite amongst my peers. I know of at least 6 other riders that have bought these same tires this winter. I have heard reports from others that they have been losing studs. I have not lost any. And 45NRTH has done the right thing by sending replacement studs to those that have been losing them.
Thank you for your feedback.
Grips solid icy trails like crazy!
I'm still in awe at the holding power the Wrathchild tires provide on solid icy foot prints left in the previous thaws slush! Trails I wouldn�t consider taking on other studded tires are now ridden aggressively without issue! Amazing!
Thank you for your feedback.
Big improvement over Dillinger 5s!
3 of 3 customers found this review helpful.
These beasts are heavy - lets just get that out of the way. But the performance in icy or mixed conditions is just so much better than my previous Dillinger 5s. Climbing performance is also much better. Sure, I still hit places where I lose traction and slide around, but Im not sure any tire would be better in those conditions.
Thank you for your feedback.
45Nrth Studded Wrathchilds
Sticks to ice, plows through anything!
1 of 1 customers found this review helpful.
These tires are the best! Absolutely worth the price (catch them when theyre on sale.) Ive taken these on pavement to bed in the studs and was surprised at how easy they roll for a knobby tire. The XL concave studs I think make less rolling resistance than regular studs in my opinion. I have some Schwalbe Ice Spiker Pros and I definitely prefer the Wrathchilds stud design better.
As far as powdery snow (about 3.5) and snow with frozen crust on top they plow right through it. And of course on the ice. I rode on 2 thick ice and felt like I was on a typical hard pack dirt trail. No sliding or steering issues whatsoever.
I definitely would not hesitate to purchase these. You wont be be sorry you did.
Thank you for your feedback.
I love these tires
Cycling Enthusiast
Duluth, MN
5 of 5 customers found this review helpful.
This is my first set of studded tires and I got them based on the previous review. We recently had some warm weather that made our trails ribbons of ice. We received a little new snow and with these tire I feel like I can dive into the corners with confidence. I have been able to climb hills that I that I usually spun out on in the past. After three days on these tires on icy trails I am very happy. I am hoping to get some fresh deep powder to try them out in.
Thank you for your feedback.
Packed snow at -35. Good side grip.
Cycling Enthusiast
Yellowknife NWT
1 of 1 customers found this review helpful.
Riding in the far north in Canada, with temp hovering at -30 plus wind chill. Commuting each day on hard pack and soft snow. Rides well, and especially excellent side grip around corners. Because of the crazy price I only bought one for the front, and DID slide out on the read tire trying to get around an off camber packed road bermat about 40KMH. It's all good, no big crash! Lots of fun though!
Thank you for your feedback.
A breath of fresh, cold air
1 of 1 customers found this review helpful.
I use this tire on the front and a Dillinger 4 on the back. I can't compare that setup to any other, since last winter I was running just the Dillinger up front. I will say, though, that this St Paul winter commuter is very satisfied with the security gained from these tires. But don't take lightly the rolling resistance the transition to pavement from ice highlights the fact that these are designed for grip more than speed.
Thank you for your feedback.
Holy Traction
1 of 1 customers found this review helpful.
These things are amazing on snow and ice, I have the bike handling skills of a newborn baby giraffe and even I could get traction with these things. I was even able to stand up in petal on hills in snow and ice with them. Way better than the Dillingers for snow over ice.
Thank you for your feedback.
Great tire .... follow the directions of 45 N or you will lose studs !!! Lots of them !!!!
Cycling Enthusiast
Connecticut
2 of 2 customers found this review helpful.
Pro ..Hooks good in snow and great on ice. Make sure to ride on the road to seat the studs of you will lose a ton of them Con... very expensive 45 N. does not include any extra studs or the tool to insert them at this price I think it would be great if they did but I guess when you're the best tire on the market it doesn't matter just watch for when they are on sale and buy them
Thank you for your feedback.
Awesome on Ice
Cycling Enthusiast
Spring Lake, Mi
Studly
1 of 1 customers found this review helpful.
Mounts easily 1st time. Don't think need sealant. Went on 70mm rim but think get more face without airing down with 80mm or wider. Holds to anything. Hard part getting convidence that will. Not hard to push. Have done 67mi in 6.5 hr.
Thank you for your feedback.
awesome!
Cycling Enthusiast
New Hampshire
2 of 2 customers found this review helpful.
If you can stomach the initial price tag... they are worth it. if you ride snow with chance of hard ice or crust and traction is a must these are the tires for you. these things hook up on the hardest boiler plate ice while cornering. if you air down to 3 psi they will break trail in fresh snow and the huge gapped lugs are like paddles pushing you forward.
Thank you for your feedback.
Great on ice and snow.
1 of 1 customers found this review helpful.
Have had quite a few rides on these and they are amazing on ice. Have compared them to others riding different tires and on ice have a lot more bit vs others. In the snow they have deep lugs and work quite well. Studs have held up well and have only lost one riding varied terrain of snow, ice, frozen bare ground. They have in my opinion a bit more bite over the dillinger 5's on ice but seem comparable in other conditions.
Thank you for your feedback.