Portland Design Works
Very well designed
Installation was a breeze. Have about 400 miles using them and there are no issues or any noise. Oh yeah, they work great as fenders. I bike in the rain in the Seattle area. I�ve used SKS before and like these better.
Thank you for your feedback.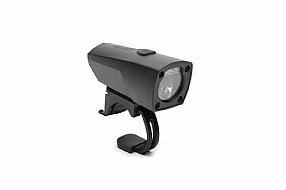 Cycling Enthusiast
Bonney Lake, WA
2 of 2 customers found this review helpful.
Very effective and long lasting
I use the light for daytime riding in flash mode. It is very bright and visible even in bright sunlight. The battery lasts for quite some time. I have done as many as 5 rides, 3 hour long, between charges. Even after those rides the indicators show that there was charge left. It is larger than my previous headlight, but it is better design over all. I have had very good luck with Portland Design Works products, and this one simply confirms my faith in the quality of the company.
Thank you for your feedback.
4 of 4 customers found this review helpful.
Great fenders for my commuter/rain bike
I've had a couple sets of PDW metal fenders. My last set of 45mm fenders were a little too wide for the crown of my C3 so I went with the 37mm, which fits perfectly. Despite the specs, I'm running 32mm tires and the coverage is just fine. They've replaced the rubber flaps with plastic, which feels a little bit like a downgrade, but the plastic flaps are slightly longer and seem to provide better trailing coverage. I'm not sure how durable they will be, but so far they've been fine. Worst case I will replace with more sturdy flaps - easy enough to do with this design. Another thing that seems to have changed is the finish seems to be somehow more permeable than my previous fenders. Best way to describe it is the previous fenders would wash off really easy and these fenders seem to collect road grime a bit more. Not sure if that due to the paint - these fenders are black versus silver. Other than that, the fenders are super rigid, fairly light, and quiet. All that I'm looking for in a fender.
Thank you for your feedback.
4 of 4 customers found this review helpful.
These are great.
I have a Kona Rove ST and have been looking for a nice set of fenders that will accommodate the 700x42mm tires I'm running. Have been regularly impressed with the quality and style of PDW products - no exception here. I did need to get some longer screws and rubber washers as the shape of the stay mounts and my frame eyelets weren't perfectly compatible - not a big deal though. Took my time and got them mounted. Great, rattle free coverage. Bonus to support a two Portland businesses.
Thank you for your feedback.