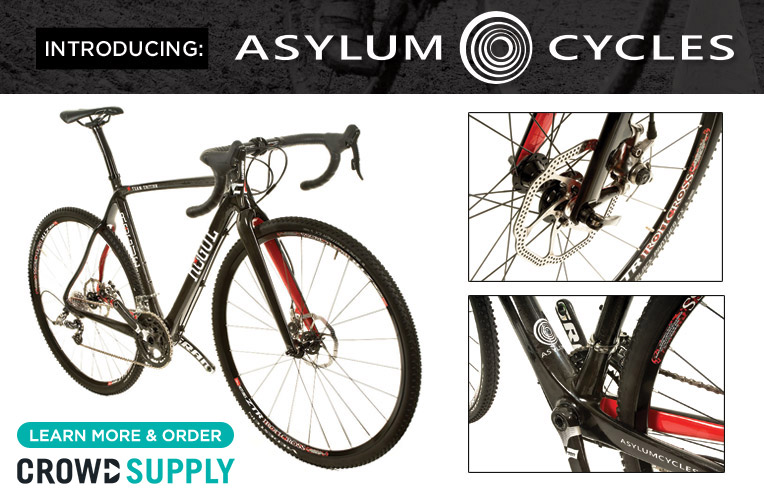 Western Bikeworks is excited to announce our new partnership with Crowd Supply, a local crowdfunding company dedicated to bringing innovative new cycling products to riders. Crowd Supply gives designers a way to showcase new product ideas, gather valuable feedback, and raise the funds needed to bring their products to market. Crowdfunding connects designers directly to riders, so great products get made, and those that aren't quite ready for the market get refined and improved. Supporting a campaign on Crowd Supply gives you access to new products, many at special introductory pricing, and lets you vote on the products you want to see in the marketplace. New companies and fresh ideas have long been a part of what makes the bike industry so great. Western Bikeworks is happy to work with Crowd Supply to continue that tradition of innovation.
The Asylum Cycles Meuse
Currently featured on Crowd Supply, the Asylum Cycles Meuse is a race-ready full carbon fiber cyclocross and gravel racing frameset. Designed around the smooth integration of disc brakes and featuring flattened seat stays to dampen vibration, the Meuse is built for performance, but still versatile enough for gravel grinding and multi-day adventures. The tapered head tube and full-carbon Columbus fork offer outstanding steering precision and zero stutter or chatter under braking. The Press-Fit 30 bottom bracket provides the kind of stiffness needed for maximum power transfer and is fully-compatible with PF30 eccentrics, allowing you to easily set up the Meuse as a devastatingly fast single-speed.
Tested in conditions ranging from gravel races to technical singletrack, the Meuse frame carries a 3-year warranty and no-fault crash replacement, weighs 1120g (54cm), and keeps shift cables tucked away with internal cable routing. Unlike frames with more limited 130mm axle spacing, the 135mm rear axle spacing on the Meuse accepts almost every disc wheelset available, including 29er wheels.
The Meuse can be ordered as a frameset for only $895, and in three complete bike builds, including a $1595 single-speed option, a $2095 SRAM Force/FSA geared option, and a no-holds barred $2495 Rogue Team Edition in partnership with Rogue Ales that combines SRAM Force with Thomson stem and seatpost and Avid BB7 SL brakes. All bikes feature Stan's NoTubes Iron Cross tubeless compatible wheelsets.
New To Crowdfunding?
Crowdfunding of new product development is a recent but exciting trend. Websites like Kickstarter, Indiegogo and most recently Crowd Supply, provide a place for entrepreneurs to showcase their new products through crowdfunding campaigns and raise the funds necessary to transition them into production. When you become a backer of a crowdfunding campaign, your pledge is typically made in return for the entrepreneur's commitment to deliver you one of the first production units. Each campaign runs for a limited duration, usually 30, 45 or 60 days. Once a campaign reaches a specified minimum funding threshold (often determined by how large an opening order is required to have the product manufactured and any tooling costs that must be paid), the backer's pledges are processed and the project can proceed forward. If the campaign fails to reach it's funding threshold, none of the backers' pledges are collected.