Grease, Lube, or Solvent
A clean chain makes for a happy, efficient bike. Properly greased screws and joints will make your life much easier when it comes time to switch out parts, adjust your position, or just do that big end of year bike cleaning project. There are a ton of greases, lubes and solvents on the market and they all claim to do it all. Here is a short guide to help you find the correct lube to meet your needs.
Chain Lubes
Keeping your chain clean is the single most important thing you can do for your bike. A clean, quiet chain will decrease wear on your drivetrain and enhance your riding experience. Selecting a proper lube is imperative in maintaining your chain.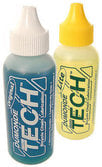 Wax or no? - One of the main variables in chain lubes is that some contain a small amount of wax and some don't. Whether you need wax or not depends on the type of riding you do. The wax in chain lube clings to the crevices in your chain and drivetrain providing a base layer of lubrication when elements such as water and dirt may strip the oil from your chain. This is ideal for mountain bikers, all-weather commuters and your rain bike.
On the other hand, wax lubes are not ideal for your high-end road/race bike. On a bike that generally stays fairly clean, the wax that gathers in those crevices will inhibit the more efficient oil from reaching the contact areas of your chain. High quality oil is always the single best lubricant for your bike, it just won't weather the hardest storms.
Oil Based Solvents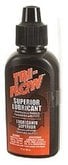 Oil based solvents such as Tri-Flow and WD-40 are common in any kind of shop. Oil based solvents are great at silencing squeaky bolts, cables and clamps (like seatpost clamps and stem faces). They can also be a life saver if you need to loosen a seized part. Solvents are miracle workers when it comes to cleaning old parts: strip off your derailleurs and shifters, add a quick spray of Tri-Flow, wipe them down, and they will shine like new.
These solvents are often also marketed as chain lubes. While they might be ok for getting the old beach cruiser up and running, they are not generally used on performance oriented bikes. The oil base eliminates a squeaky chain in the short run, but the solvents penetrate the pins and rollers in the chains, leading to more squeaks (and increased wear) down the road.
Grease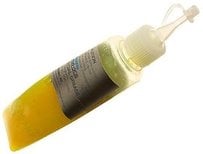 The bike mechanic's best friend is a big tube of grease. When assembling a bike, anything threaded receives a generous smear of grease and is carefully tightened. Bicycles contain plenty of fragile aluminum and titanium screws that can be completely destroyed by over-tightening, which grease helps prevent. Every mechanic has his or her own preference, and we sell several mechanic-grade greases suitable for any bike. For extra bike mechanic geek points, use both Dumonde Tech Liquid Grease and Dumonde Tech MR Grease and mix them to desired consistency. Seriously, people do this.
Grease is thick, sticky and built to last. Leaving excess grease on the outside of parts is going to attract dirt, so make sure once everything is tightened down that excess grease is cleaned off.
Citrus Solvent
If you want something really, really clean, citrus solvent is the answer. No shop is complete without a bottle of diluted citrus solvent (1:1 water/solvent ratio) to give chains the deep clean. Citrus solvent is extremely strong, cutting through the thickest road grit. You might feel your hands start to burn a little after working with this stuff, it's that strong. Dilute it and use it sparingly, but nothing cuts grease better.
As well as this stuff works, don't get too carried away with your chain cleaning. Once a month should be good for an avid rider, riding in fair-to-good conditions. Over-cleaning can strip away the good oils that accumulate in the nooks and crannies of your chain leading to undue chain wear. Also, be sure to keep it away from the clear-coat on your frame; it'll eat right through that stuff.